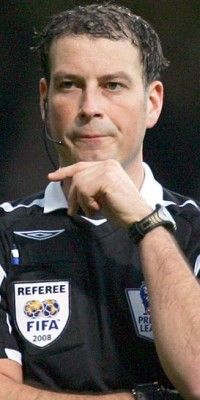 That last Burnley game he refereed was against the same opponents when Wade Elliott scored the only goal of the game in the Carling Cup in front of a crowd of over 17,600. I don't think there were too many complaints about the referee that night from Burnley fans given the result.
He has had his moments refereeing us but he's also turned in some good performances and the RATE THE REF Table reflects that. He's currently in sixth place from five qualifying games since its introduction in 2007, and four of those games have ended in defeat.
Last season he refereed 29 domestic games, plus a further seven in European competitions and internationals. In the domestic games he gave out 80 yellow cards and six red cards. Of those yellow cards, 37 went to home team players, 40 to away team players with the other three coming in his last game of the season, the Championship play-off semi-final second leg between Brighton and Crystal Palace at the Amex Stadium.
The season also saw him miss a month after he was accused of using inappropriate language against John Obi Mikel in a game between Chelsea and Manchester United, an accusation that had no foundation.
I find Clattenburg a bit too keen to play to the cameras at times but he's one of our top referees and also a Fifa referee and I'd much rather see him refereeing the game tomorrow than some of the Football League referees who ruined some of our games last season.
This won't be his first opening day visit to Turf Moor either. He refereed our 2-0 win against QPR in 2006 when Steve Jones scored both goals on his debut.
With him come three other Premier League officials. The assistants are Stuart Burt (Northamptonshire) and Scott Ledger (South Yorkshire) and the fourth official is Michael Oliver (Northumberland) whose last Burnley game was the 1-0 home win against Blackpool last season.
Previous Burnley Games
Season

Opponents

V

Res

Y

R

Burnley Players Carded

2001/02

CRYSTAL PALACE

h

1-0

4

0

n

Grant, Taylor

2002/03

PORTSMOUTH

h

0-3

5

0

n

Briscoe

2002/03

SHEFFIELD WEDS

h

2-7

6

1

n

Armstrong, Davis, Gnohere, Taylor

n

I Moore

2003/04

WEST BROM

a

1-4

5

0

n

Branch, Camara, May

2004/05

LIVERPOOL

h

1-0

5

1

n

Chaplow, Valois

2006/07

QPR

h

2-0

3

0

n

Duff, Harley, J O'Connor

2007/08

PORTSMOUTH

h

0-1

3

0

n

J O'Connor

2009/10

CHELSEA

a

0-3

1

0

n

Mears

2009/10

BARNSLEY

a

2-3

3

0

n

Eckersley, Duff

2009/10

PORTSMOUTH

h

1-2

3

1

n

Carlisle

2010/11

BOLTON

h

1-0

3

0

n

Marney