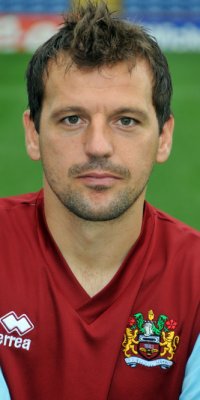 Robbie Blake - Clarets Mad Player of the Year 2008/09
Sky thought so, there were no dissenters, and both the man of the match and player ratings on Clarets Mad have gone, overwhelmingly, to the central defender who has been in top form since he returned to the side at the beginning of March.
Carlisle polled no less than 62.8% of the Man of the Match Vote and that was some considerable distance ahead of goal scorer Wade Elliott who came second with 16.8% of the vote. No other player came close to double figures and it was Robbie Blake who edged into third place with 5.4% of the vote.
We had the same top two in the player ratings. Carlisle had a rating of 9.50 out of 10 with Elliott coming second with a rating of 8.83. Skipper Steven Caldwell, and it was a big surprise to me that he didn't make the top three in the vote, came third in the player ratings with a rating of 8.78 out of 10.
The Player of the Year table is completed with Carlisle winning six votes, Elliott four and one each for Blake and Caldwell.
Those points mean Robbie Blake has become the Clarets Mad Player of the Year for 2008/09 with 84 points, twelve ahead of runner up Brian Jensen. Just below that it was really tight with only five points separating the next four.
It is the second time Robbie has become the Player of the Year on this site, he won it five years ago as we narrowly escaped the drop back to what is now League One.
A special mention for Clarke Carlisle who has ended the season in fifth place. This is remarkable given that prior to him coming back into the side at Blackpool in March he had only eighteen points. It's been a big turn round for him.
The Player of the Year is won and now we look for the Goal of the Season. Voting is currently in progress for the Goal of the Month for April/May and this will be followed next week with the Goal of the Season poll.
The Final Player of the Year Table 2008/09
85: Robbie Blake
73: Brian Jensen
67: Martin Paterson
66: Wade Elliott
65: Clarke Carlisle
62: Steven Caldwell
59: Chris Eagles & Chris McCann
54: Graham Alexander
44: Stephen Jordan
33: Michael Duff
22: Steven Thompson
19: Kevin McDonald
13: Christian Kalvenes
12: Rhys Williams
9: Russell Anderson
5: Joey Gudjonsson
1: Jay Rodriguez
Clarets Mad Player of the Year Winners
2001/02 Arthur Gnohere
2002/03 Graham Branch
2003/04 Robbie Blake
2004/05 Gary Cahill
2005/06 Ade Akinbiyi
2006/07 Eric Djemba-Djemba
2007/08 Wade Elliott
2008/09 Robbie Blake