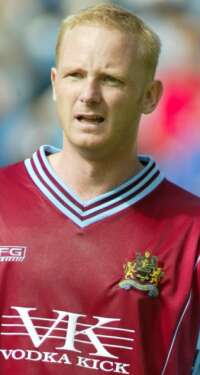 David May - plays after completing his suspension
Ok it's not the first team and it's not St. James' Park but our reserves are off to play Stoke this afternoon and they play their home games at the Lyme Valley Parkway Stadium the home of North West Counties Division One side Newcastle Town. The match was in some doubt but has been declared fit after a pitch inspection this morning.
Despite a win in our last home game when we beat fellow strugglers Hull City we are still bottom of the league and two points behind the Tigers but they have no game this week and a win would see us off the bottom for the first time this season.
Once again, as was the case two weeks ago, we are fielding all the substitutes from the last first team game although on that occasion there were five of them besides Joel Pilkington and Matt O'Neill. Alongside them will be central defender David May who is getting a game in after serving his one match ban.
There are youngsters alongside the senior players and some of the team that won the Youth Cup tie last week. The game also sees a start for Earl Davis as he battles his way back to fitness and he will partner May at the back.
The team is (4-4-2): Michael Hale, Dean West, Earl Davis, David May, Danny Pitham, Marc Pugh, Paul Weller, Joel Pilkington, Tom Ince, Rhys Carpenter, Matt O'Neill. Subs: Ryan Townsend, Gary Carter, Darrell Avery, Joe Booth, Alex Taylor.
There is no news of the Stoke team but in their last match, a 4-1 win at Sheffield Wednesday, they included such as Neil Cutler, Clive Clarke, Marc Goodfellow, Karl Henry, Chris Ilewumo and Chris Greenacre.