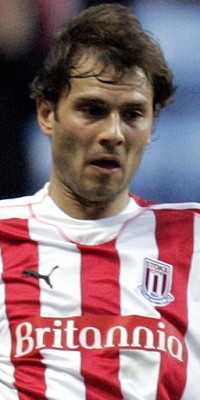 Patrik Berger - a player Stoke had on loan last season
Coyle himself said a dominating centre half was top of his shopping list and Flood has added that we need to get more physical. After the New Year's Day defeat he told the local press: "We looked tired, but Blackpool were more physical and we've got to be ready for when we come up against these harder' sides. They are not as football-orientated as we are. They tend to throw it about a bit more.
"We've got a skilful squad but in certain games, we've got to have a different strategy and show more strength. It's unfortunate that we are missing certain physical players - Clarke Carlisle, Michael Duff, and even Besart Berisha is a tough cookie. Once they are back, I think it will be different.
"With all the suspensions we've got, people must think we have the hardest team in the league. But we recognise that we haven't got the biggest side in midfield, and not got the fastest forward line, and we've got to look at those areas.
"Owen is the first to recognise that. Now he's got the opportunity to do a bit of wheeling and dealing, and he's opening his eyes to see where he can improve the squad. I'm sure we can bring in two or three players."
Flood also confirmed that we are set to be more active in the loan market and used Championship rivals Stoke as an example. "We have got be a bit more open-minded to quality loan players," he said. "It has worked well for teams like Stoke and others in the top six. Owen is very much on top of that. We would finance signings if it was the right player for Burnley."
He also confirmed that the club have had no offers for Kyle Lafferty that reflect his value. He stressed that should he leave it would only be if we could replace him with better quality. "Our attitude would be that Kyle's not for sale at the moment," he said.