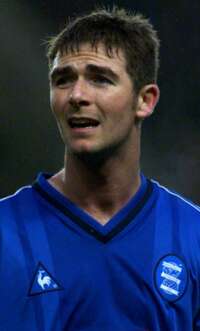 Bryan Hughes
Chairman Barry Kilby has said today that we are looking at a number of players who would be available for the league games and added that our aim is still to get into the play offs. He believes that we have a very good chance.
Speculation has started but for once the Burnley chairman himself started the ball rolling by naming Birmingham midfielder Bryan Hughes as one of the targets and he added that there could be at least one new face in the squad for the next home game against Derby.
There is no doubt that we have made an enquiry about Hughes, as have other clubs, but it is Burnley who were mentioned when the Blues' now long serving manager Steve Bruce said he couldn't let him go.
With Curtis Woodhouse out on loan at Rotherham until the end of the season Bruce has now been hit with an injury to Aliou Cisse. He has torn a hamstring and although they are awaiting the results of a scan the news is not good.
"With Aliou's situation, I told Burnley that I couldn't let Bryan go," said Bruce. But of course things change and a further move for Hughes cannot be ruled out.
The 26 year-old Hughes has been at St. Andrews for six years after signing from his first club Wrexham in a £1 million deal in March 1997 and has made over 200 league appearances for them since.
Although signed from a Welsh club with the name Hughes he is in fact English, a Scouser to be exact, and so would be more than at home in the Burnley dressing room alongside Cooky, Branchy, Mooro and Rodders.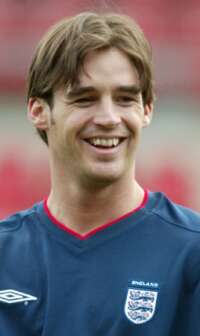 Matt Jansen
As news was just settling down on that one came another link, this time causing even more discussion when Blackburn boss Graeme Souness decided to tell all and sundry our business and admit that we had made an enquiry for Matt Jansen.
He is struggling to get a game just at the moment although he has made an excellent recovery from the injuries sustained in a motor cycle accident on holiday last year. The Blackburn manager (recently likened to a German Porn Movie star on our message board) looks keen to get him out on loan to get some games in and apparently we are one of a number of clubs in the running.
We have, as in the case of Hughes, made an enquiry. Nothing more, nothing less and that makes the headlines of one of our local newspapers this evening just downright ridiculous when they claim that 'Stan wants Rovers Star'.
Mind you it gets worse when they say, "Ternent has pulled off a couple of transfer coups in the past, adding England legends Paul Gascoigne and Ian Wright to his squad, but signing a major star from his closest rivals would top both deals."
I think someone needs to tell this newspaper and its reporter that Burnley have signed major stars in Wright and Gascoigne and good player that he might be Jansen is without doubt NOT a major star and to use a quote from a struggling Premiership manager, "Is not fit to tie their boots."
I can assure them that any signing of Jansen would not even come close to reaching never mind topping those deals.
But I don't go in for all this nonsense that we don't want him because of who he plays for (or in some cases has played for). I've never thought any differently of a Burnley player because he has previously worn the blue and white halved shirt with the most recent example being Lenny Johnrose.
And if Jansen was to join us on loan then that would be fine with me. As long as he came and gave us 100% commitment then I would have no problem.
But major signing – I think not.
Whether Hughes or Jansen or both do arrive at Turf Moor or not in the near future we cannot even guess but it does look as though the club are ready to make a move and bring in a couple of loan players to help us push up towards the top six.