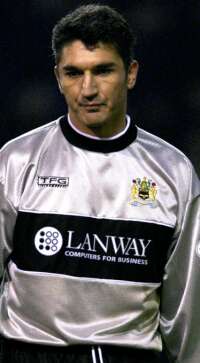 Nik Michopoulos - warm welcome from the Palace fans
Everything pointed at referee Mark Cooper who it appears has managed to get three major decisions wrong that have in the end cost Burnley a first away win since Leicester in October.
As usual the players arrived to the strains of 'Glad all over' with Mr. Misery Trevor Francis in tow, a most unlikely combination. But the Palace fans afforded both Gareth Taylor and Nik Michopoulos warm receptions as their names were announced.
Marlon had returned to the starting line up for Nik Michopoulos who was one of three players dropped following the FA Cup win. Nik, along with the other two Mark McGregor and Alan Moore, had to settle for places on the bench and with Glen Little out having suffered a back spasm it meant four changes for the Clarets. Marlon, Driss Diallo, Lee Briscoe and Gareth Taylor (all unavailable on Tuesday) returned to the starting line up.
For much of the first half an away win was not on anyone's mind as Palace dominated the game, in fact but for Marlon we would almost certainly have been behind.
Mr. Misery had named an attacking line up and Palace took the game to us although to be honest the scream of 'Bloody rubbish Burnley' from the seat in front of me did seem a little harsh with only 90 seconds gone.
With five minutes gone I am being told that the game is going to be the same as two seasons ago when we snatched a 1-0 win after being under pressure for most of the game and certainly we were struggling to get into it.
There were some last ditch clearances and a couple of good saves and the referee must have thought Marlon was able to get to everything when he awarded a corner as a shot sailed wide of goal. Even Marlon wasn't reaching that.
We were hardly in the game as an attacking force at all and with no width in the absence of Little and Alan Moore, albeit on a very narrow Selhurst Park pitch, were were totally unable to put the Palace back line under any sort of pressure.
Not so at the other end and in one short spell it really did look as though we might go behind as one last ditch clearance followed another but somehow we kept our goal intact and to be fair Palace weren't getting in as many shots on target as they might have.
But as often happens it was the team under pressure who took the lead and right on half time too. We won a free kick on the left of the Palace box. Robbie Blake took the kick which Gareth Taylor gleefully headed in.
There were no scares and at half time Palace went in decidedly less than glad all over with the Clarets (or should that be the Bees/Wasps/Hornets – playing in the dreadful kit) in the lead.
The second half was going to be better. A goal up and the sun had finally gone down affording us a better view and the game had definitely changed. The goal had obviously given us confidence and twice in the early stages of the second half we came close to doubling our lead, the second of these saw Blake hit the foot of the post.
We then went into a phase of not bothering to shoot. In one move we had at least four shooting opportunities without ever bothering to get a shot in but a couple of minutes later it was even worse.
We completely caught out Palace and had three against two. Blake played in Tony Grant who just had to hit the ball in past the keeper. The keeper didn't save his effort and neither did he miss target. Incredibly Grant, not known for his goalscoring, didn't even get a shot in. He was well inside the penalty box and it is difficult to work out just what he was doing.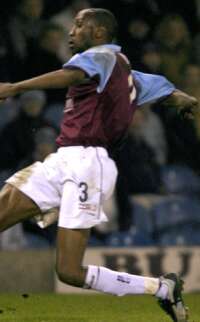 Driss Diallo - outstanding performance in defence
It really should have been 2-0 but a minute later it was set for 1-1 as referee Cooper awarded Palace a penalty after Beresford brought down Dele Adebola and Tony Popovic scored from the spot.
From the away fans section it was impossible to see whether the decision was good or bad although Marlon was certainly having something to say about it. Apparently Adebola has since said there was no contact and video evidence backs this up. Even so the incident was outside the box. Cooper had got it wrong.
Within three minutes Palace hit the woodwork but as the game moved on it was looking more and more likely that if anyone was going to win it then it would be the Clarets. We were doing most of the pressing at this stage and in one attack we should without any question at all have been given a penalty ourselves.
Dimitri Papadopoulos, on for Blake, was clearly held back by a defender grabbing his shirt and refusing to let go for some time. It was right in front of the referee who could really have had no option.
Maybe Papadopoulos should have gone down but for once our Greek striker decided to stay on his feet. But there was no decision and play went on. But that was nothing compared to the hand ball with just a couple of minutes left as a Palace defender steered it out just wide of the post with his left hand.
The referee just awarded a corner whilst his assistant incredibly was stamping his feet and trying to demand a goal kick. Both these incidents were clear and blatant penalties.
We had been warned about this referee, he has been ruining games right, left and centre recently. This time there was no red card although a fair share of yellow cards. But there have been three major penalty incidents and he has got them wrong.
Overall though it was a fair result. Palace were much the better side in the first half but we had the edge in the second.
Man of the Match was Driss Diallo. He defended well, stood up to the pressure during the first half and had to deal with a difficult opponent in Andy Johnson. On the ball he always seemed to have plenty of time, the sign of a good player.
He did well against Ipswich but today he was excellent and looked another good find.
The draw keeps the unbeaten run going and provides further evidence that we can get good results against the form teams although it does see us drop a further two places to 16th.
The position though is almost meaningless and what should be said is that we are 14 points above the relegation places but only 5 points behind the play offs. Suggestions are that we will remain somewhere between them for the remainder of the season although closer to the higher group.
The teams were,
Crystal Palace: Cedric Berthelin, Shaun Derry, Kit Symons, Tony Popovic, Julian Gray (Danny Granville 71), Aki Riihilati (Wayne Routledge 62), Hayden Mullins, Danny Butterfield, Tommy Black, Andy Johnson, Dele Adebola (Ade Akinbiyi 62). Subs not used: Lance Cronin, Gary Borrowdale.
Burnley: Marlon Beresford, Dean West, Driss Diallo, Arthur Gnohere, Graham Branch, Tony Grant (Mark McGregor 88), Paul Cook (Alan Moore 73), Lee Briscoe, Ian Moore, Gareth Taylor, Robbie Blake (Dimitri Papadopoulos 66). Subs not used: Nik Michopoulos, Andy Payton.
Referee: Mark Cooper (Walsall).