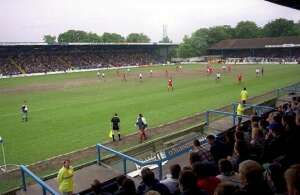 Gigg Lane - home of Bury FC
However the problems are packaged they are all in the end down to the financial state of the clubs. We have had Wimbledon trying to up sticks and wander up the M1 to Milton Keynes where they are going to ask Terry Burton to get his lads to take on some concrete cows.
Then we have had York, and Exeter but now much closer to home we have Bury who could be no more than days away from closure. They are now in administration and are fighting for their lives and today Clarets Mad were delighted to hand over a donation and have bought seats at Gigg Lane. Needless to say as a Burnley web site we have chosen to buy them in the away end.
They are not just one of the closest clubs, just take a look at our current staff. Manager Stan Ternent and his assistant Sam Ellis are both former managers, Cliff Roberts was on the staff with Stan. Coaches Jimmy Robson, Terry Pashley and Ronnie Jepson all played for them and so too did current players Gordon Armstrong, Dean West, Tony Ellis and Lenny Johnrose.
A trip to Gigg Lane in the 1980s saw them under the management of Martin Dobson, assisted by Frank Casper and they included in their line up Leighton James, Kevin Young, Joe Jakub and Winston White alongside Terry Pashley.
Should you wish to help Bury Football Club then please read below the press release from Gigg Lane today and visit their web site for details on how you can help. This week saw the 40th anniversary of the death of Accrington Stanley, do we really want to see another club die?
PRESS RELEASE
Bury Football Club In Crisis
The crisis at Gigg Lane has been widely reported over the last few months. We have now reached a 12 day deadline. The administrators have to raise £400,000 by 15 March. If the club fails to raise this amount, then BURY FOOTBALL CLUB WILL FOLD AND DIE.
The club will not allow that to happen, and as such are coming up with many ways to raise money. One such method is the "Buy a seat" appeal. The Gigg Lane contains 12,000 seats. We are selling these seats to any interested parties. For a fee of £10.00 we will place a small label on the seat with the purchasers name. The price is not limited to £10.00. One supporter has already offered £100.00 per seat.
Also, business's or companies can purchase a whole row of seats (26 in number) for £260.00.
Bury Football Club are urgently asking all supporters of the mighty Shakers to broadcast this message far and wide. Publicity from the media is helping but the club is asking for more attention to this plight. This press release will be sent out daily to all media sources until we reach the March 15th deadline. Please do not ignore us and help keep Bury Football Club alive.

Full details of how payments can be made can be found on the Official Bury FC Web Site.
Please use this document and spread the word.
Gordon Sorfleet
Press Officer
Bury Football Club