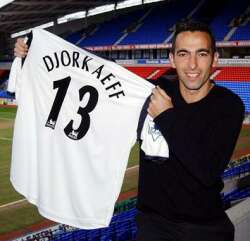 Youri Djorkaeff - scored both goals
There were doubts as to whether the game would be played with both Turf Moor and Gawthorpe out of action due to the rain suffered in the area. However not all parts of the county seem to have been hit by this rain as games do seem to be going on elsewhere.
Oldham were able to play their game against Tranmere on Tuesday night and although Rochdale's game was called off we had the Rochdale groundsman pointing the finger at his own employers for not providing him with the appropriate tools.
So it was we were able to find a dry enough patch to play the game yesterday and this was next door to the Royal Ordnance Factory on Euxton Lane just outside Chorley. The ROF's next door neighbours do happen to be Bolton Wanderers, it is their training ground.
Last time we played a behind closed doors game there Colin Todd walked out on Bolton but as yet we have heard nothing to suggest Sam Allardyce has done likewise. In fact Sam was delighted with the outcome of the game as for him it was a chance to give new signing Youri Djorkaeff his first taste of English football.
Djorkaeff didn't let him down and scored both goals in their win and we also here that a Greek goalkeeper took part in the match. No, before you get excited Nik Michopolos is not on the way back, it was a trialist playing for Bolton.
There is no official news of the Burnley team but Stan had said earlier in the week that Andy Payton and Mitchell Thomas would play and it is believed that Robbie Blake played a part as he strives for full fitness.
Let's hope we have also been able to give Sam and Bolton a lift for their relegation battle.