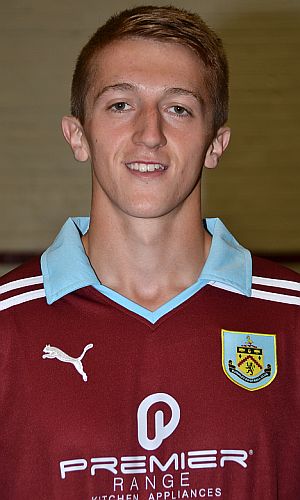 Last season's youth team captain Tom Anderson
It's the development squad who lead the way and it is a young Burnley team made up of our youngest professionals and scholars who will travel to Seel Park for the game against Evo-Stik League club Mossley.
Jason Blake has named a squad of sixteen for the game. That squad includes all of those who featured in last season's FA Youth Cup run and are still with the club and they are joined by their more experienced colleagues Mehdi Lazaar, Wes Fletcher and Joe Jackson and the two 16-year-old goalkeepers who have just started their scholarships, Callum Jakovlevs and Conor Mitchell.
Daniel Nizic, the Australian goalkeeper we reported last month was joining the Clarets, is now at Burnley although his signing hasn't, as yet, been announced, and he is not included for tomorrow's game.
Burnley will select from: Callum Jakovlevs, Conor Mitchell, Aryn Williams, Tom Anderson, Alex Coleman, Jack Errington, Luke Conlan, Luke Gallagher, Steven Hewitt, Archie Love, Adam Evans, Mehdi Lazaar, Jason Gilchrist, Shay McCartan, Joe Jackson, Wes Fletcher.
It will be a second warm up game for Mossley. On Wednesday, also at their home ground, they played Oldham Athletic and were beaten 3-0.
However, Mossley were very much under strength against an Oldham first team, but player boss Steve Halford is hoping to have some of the missing players back to face the Clarets.
Mossley are a club who can name two former England managers amongst their ex-players. Walter Winterbottom played for them between 1934 and 1936 before signing for Manchester United and in late 1976 they signed Howard Wilkinson from Boston United as player/manager.
Amongst their notable former players are goalkeeper Gary Pierce and Eamonn O'Keefe whose transfers to Huddersfield in 1971 and Everton in 1980 enabled them to build new stands.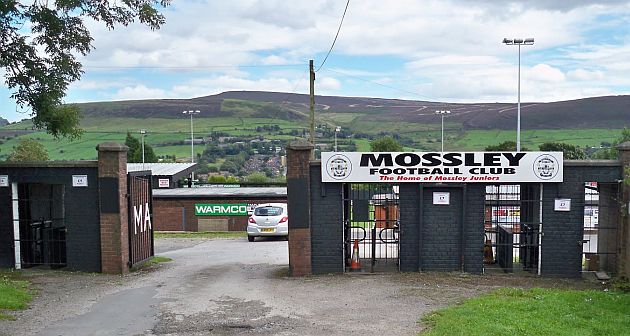 Pic by kind permission of Mossley FC
Burnley played at Seel Park twice around a decade ago. The first of those games was a Central League game against Oldham and then ten years ago we played Mossley, at the time managed by ex-Claret Ally Pickering in a pre-season friendly.
That less than inspiring game ended 0-0 with Burnley lining up: James Salisbury, Andrew Leeson, Gary Carter, Danny Pitham, Liam Eves, Matt O'Neill, Joel Pilkington (Sean Blakey 85), Andrew Waine, Steven Richardson (Andrew Fairlamb 81), Paul Scott, Earl Davis. Sub not used: Richard Chaplow.
Five years after that game, Joel Pilkington had signed for Mossley and was named their Supporters' Player of the Year in 2006/07.
The game tomorrow kicks off at 3:00 p.m. and, besides the football, the seats in the stand afford a fantastic view on a good day.