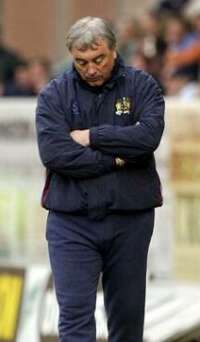 Stan looks less than happy with the goings on
The top three teams in the league have all now taken six points from us and at times we looked second best to Wolves this afternoon. Not as though things didn't go their way and mainly in the shape of referee Barry Knight who was simply nothing short of disgraceful. It is so sad that he will dominate most comments on this game but his appalling display leaves people with little option.
Arthur was back for the injured Coxy and Ian Moore and Tony Grant missed out to be replaces by Paul Weller and Alan Moore. As predicted there was no goalkeeper on the bench and no place for Robbie Blake either, the £1 million man not making the sixteen.
We took the lead early in the game when Gareth Taylor headed in, or so we thought. Referee Knight curiously awarded Wolves a free kick. Within a minute we were a goal down from a move that could and should have been stopped twice for offside. So he didn't get much help from his assistant.
To be fair no matter what Knight was and wasn't doing during the first half we were definitely second best as Wolves powered into a three goal lead. It looked like men against boys at times and it was clear to see who had until recently been on a good run and which team had been in relegation form for the last three months.
Decisions continued to go against us included a dreadful looking two footed tackle on Dean West that didn't even warrant a free kick and hand balls seemed to be an acceptable part of the game. It did look at times though as if Knight had left the field and handed the whistle to Alex Rae, he did seem to be refereeing the game. Certainly he looked to be consulted on a number of occasions before Knight proceeded to get it wrong again.
This shouldn't take anything away from Wolves, they showed during that first half just why the are in a good position in the league. They have spent a lot of money and there is every chance it will get them into the Premier League.
Half time is a long miserable affair when you are so far behind in a game the points have just about been lost. It seems to drag on for ages. It didn't help when John Pender pulled out the wrong tickets in the Golden Gamble draw when a £1,000 plus prize would have gone down very nicely indeed.
The second half saw two substitutions by Stan and two that went down well with the fans. Gareth Taylor coming off always goes down well with the boo boys and he was replaced by Ian Moore whilst Glen Little came on for Paul Gascoigne. Sadly it has to be said that Gazza, apart from a couple of passed and one run and shot, was pretty poor again today and on that sort of form is clearly not worth a place in the side.
If the idea behind bringing him in was a commercial one to put bums on seats and sell souvenirs then it has been a great success. If it is to strengthen the squad then it is falling well short of being any sort of success at the moment. He was dire at Sheffield United last week and no better today.
We started the second half brightly and pulled a goal back within a couple of minutes through Ian Moore and for a time looked as though we could fight our way back into the game. Bally got in a shot from the edge of the box but straight at keeper Oakes.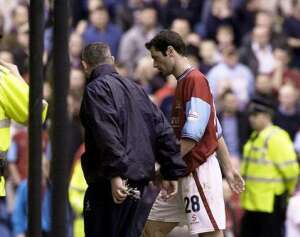 Alan Moore makes his way off after the red card
Wolves appeared to be doing just as they had at Molineux in letting us have the possession and sitting on the lead and as time went on with the score still at 3-1 they didn't seem to be in much trouble.
Then came the incident that looked as though it had finished the game off completely when Alan Moore became just the second Burnley player to be sent off all season. It was difficult to see from my vantage point exactly what had happened. Referee Knight didn't seem particularly interested other than to give a free kick but as Wolves players moaned he incredibly waved his red card. We shouldn't be surprised though, we warned you yesterday that he loves to use his red card.
Alan Moore looked absolutely stunned as Gunnar Halle performed theatricals. Halle has played against us in both of the last two home games and has done anything but endear himself to the Turf Moor crowd. He got away with a blatant penalty on David Johnson in the Bradford game and this time went down as if he was dead. Maybe he is pleased to see a player sent off. The fact that Knight did send him off suggests that it was the wrong decision.
So 3-1 down and ten men but all it did was lift us. We really pushed at Wolves and with five minutes remaining David Johnson scored his third in three home games to hopefully set up a grandstand finish. We played the five plus another four but weren't able to test the keeper again and it ended in a 3-2 defeat.
There were positives and negatives to take from the game. In the first half we were second best without a doubt and even with some fair decisions would almost certainly have gone in at half time behind. Although chasing an improbable point in the second half we showed great spirit even when reduced to ten men and Wolves will have known they were in a battle right to the end.
We must not forget though that we have now picked up just 19 points from the last 18 games and that is not only well short of promotion form but is relegation form. Repeat that sort of return over a full season and you would be very lucky to stay up. For the last three and a half months we have been a long way from the best teams in this division and in fact one of the bottom few. That needs to be changed and changed quickly.
Stan said he wants to go to Portsmouth with the second half form and not the first half form. At least for the last three home games we have played for half a game but it is now just one win from the last nine at the Turf.
Stan also said that he didn't have enough money to talk about the referee obviously concerned about the sort of fine he could get from the FA. Well they can't fine me. I have been trying to think of a word to describe him that rhymes with Knight, I'm sure you will have some ideas. In the end I won't use rhyme. I could call him incompetent, for certain he is that. Allardyce and Moyes didn't have it wrong about him, he really is a cheat.
The teams today were,
Burnley: Nik Michopoulos, Dean West, Mitchell Thomas, Arthur Gnohere, Lee Briscoe, Paul Weller (Tony Grant 73), Kevin Ball, Paul Gascoigne (Glen Little 45), Alan Moore, Gareth Taylor (Ian Moore 45), David Johnson. Subs not used: Gordon Armstrong, Andy Payton.
Wolves: Michael Oakes, Sean Connelly (Gunnar Halle 24), Jolean Lescott, Paul Butler, Mohamed Camara, Shaun Newton, Colin Cameron, Alex Rae, Kevin Cooper, Dean Sturridge (Kenny Miller 80), Nathan Blake (George Ndah 57). Subs not used: Matt Murray, Keith Andrews.
Referees: Barry Knight and Alex Rae (Wolverhampton Wanderers).