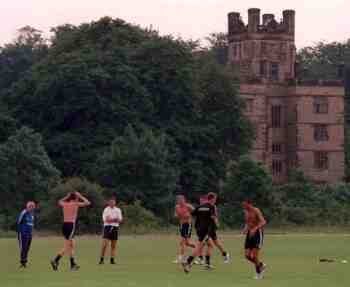 Gawthorpe - out of bounds again
In the North West Conference of the Youth Alliance we were unable to play three of our home games because Gawthorpe was unfit due to waterlogging although two of these games, against Oldham Athletic and Tranmere Rovers, were switched to away games. Unfortunately the Rochdale game was never played although in the end this did not cost us any places in the league table.
Having played two away games in the Merit League Second Division at Darlington and Oldham Athletic we were scheduled to play our first home game on Saturday against Bradford City. Again though Gawthorpe is out of bounds for the youth team, this time because it is required for the first team in preparation for Sunday's game against Preston North End. Given that the first team game has been scheduled for Sunday for some time it does beggar the question as to why this youth game was scheduled for Gawthorpe in the first place.
Keeping up with our usual tradition we are once again giving up home advantage and the game will now be played at Bradford City's training ground at Rawdon Meadows, Apperley Bridge. The kick off time remains at 11:00 am.

Fixtures and Results