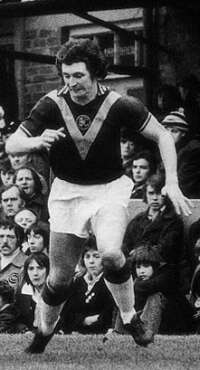 Paul Fletcher - scored the winner last time we met Fulham in the FA Cup
This is anything but a good draw for us, in fact it is probably the worst possible, against the one Premiership club that have won through where a decent crowd cannot be expected. It is another tie that will hardly put money into the Turf Moor coffers.
Looking at the draw it is pretty unlikely that either the BBC or Sky will be interested in it and that means less money to be made from the game.
Besides that don't be expecting a trip to London on the Saturday, the match is almost certain to be played on Sunday afternoon with Queens Park Rangers scheduled to take on Port Vale there on the Saturday. This is the same situation as this weekend when the landlord's league game took precedence and the Fulham v Charlton game was played yesterday in front of just over 12,000.
The last time we met in the FA Cup was in the 3
rd
round twenty-five years ago and on that occasion we won 1-0 at the Turf with a goal from Paul Fletcher.
Prior to that, and the tie that will evoke more memories, was the 1962 Semi-Final which was drawn 1-1 at Villa Park before we clinched a place in the final with a 2-1 win at Leicester's Filbert Street with two goals from Jimmy Robson.
The date and kick off time will be pobably be confirmed within the next 24 hours and the ticket details shouldn't be too far behind.
The full draw is:
Manchester United v Arsenal
Southampton or Millwall v Norwich City
Crystal Palace or Liverpool v Gillingham or Leeds United
Wolverhampton Wanderers v Rochdale
Fulham v Burnley
Stoke City v Chelsea
Blackburn Rovers or Sunderland v Watford
Sheffield United v Walsall