The away fans stand - and at a cost of £20 each
It really is difficult to quite work out just how we lost two of the three points on offer but basically the answer is that we threw them away in a game that should have been dead and buried long before any late drama.
Quite simply Brighton were crap, there is no other word for it, and are without doubt the worst side we have played since winning promotion two and a half years ago. To suggest they had little to offer could certainly be considered a flattering description of the home side's performance.
And for most of the afternoon we got little wrong as we took control virtually from the beginning at a venue that can hardly be deemed suitable for league football. It has one small main stand down one side and a bank of seats on scaffolding on the opposite side whilst there is nothing behind either goal apart from one small area of seats again on scaffolding.
Then in one corner is the away fans section that is again seating on scaffolding. We all know of Brighton's problems and the fact that having lost their Goldstone Ground home they had to play at Gillingham. But their new home at Withdean Stadium which allowed them back into Brighton really must be a temporary venue.
Stan had the luxury of being able to name an unchanged team from that which beat Wolves on Boxing Day. Luxury might not be the exact word, it really means that none of his injured players were fit to return. There was a change on the bench where Mark Rasmussen was replaced by Andrew Waine.
After an early opportunity for Brighton it was all Burnley during the first half and the only frustration was the lack of a goal. Goalkeeper Kuipers made a number of good saves with one from Dean West the best of the lot as he got down low to his right to tip the ball away.
And when we did finally take the lead it was again after a Kuipers save. This time though he could only parry a Little shot back to the Burnley player who made no mistake with the second attempt.
Half time came straight after that and the Clarets went in at half time with a 1-0 lead. Did I say Clarets? Well it should have been, there was no reason at all for us not to wear the Claret & Blue shirt today but instead we chose to leave it behind as we did with the away strip and played in the horrendous amber and black.
The only concern at half time was whether we could keep playing the same way but really it was hard to believe that this Brighton side would be capable of coming back.
And that was the case as the Clarets (in amber and black) continued to dominate and Brighton continued to look incapable of creating anything remotely resembling a chance. Brighton's only attacking ploy was to con the dreadful referee Trevor Parkes into giving them free kicks. Parkes continued to oblige whilst ignoring just about anything the other way.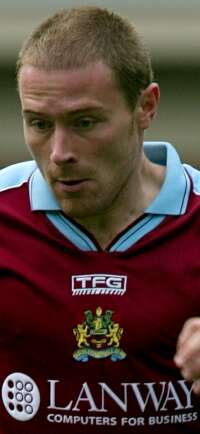 Ian Moore - a goal within a minute of coming on as a sub
We made a couple of substitutions, the first saw the impressive Robbie Blake leave early and the second was once again a case of any Moore for any Moore as this time Ian replaced Alan. And Ian's introduction was dramatic as he doubled our lead within a minute of coming on.
He got onto a poor Glen Little cross from the right to head at goal with his first touch. Again Kuipers saved and just as was the case with the first goal he could only parry it straight back and Mooro made no mistake.
Two up away from home for the first time since Sheffield Wednesday and already the home fans were beginning to leave. They knew they were beaten, they knew there was no way back.
There were less than three minutes left when disaster struck in an all too familiar way. A ball from right to left caught out Dean West (similar to a recent home goal against Coventry). West seemed to have no idea where Sidwell was but he came in behind him, cut in and beat him before hitting the ball home from the edge of the box.
Again we had failed to keep a clean sheet, just as was the case against Wolves, but worse was to come. It all happened when Zamora got onto the ball on the Brighton right. Zamora had looked nothing better than a poor midfield player all afternoon but somehow despite the attentions of two defenders and Marlon was able to get the ball to Sidwell who stuck it in from just a yard or two out.
It was a completely stunned area of scaffolding, it really was impossible to believe that we had basically outplayed a side and were going to come off without winning. At least we didn't concede another in stoppage time and at least we did hang on for a point.
The players looked equally stunned as they left the field with a couple of them having a real go at Fred West.
This was a game that we should have won, it is a game that it is hard to believe we didn't win. We have climbed a place in the league but a win would have taken us up four places to 9th just four points off the play offs.
There were suggestions from Stan after the game that not many sides will win at Brighton but that is certainly not the case. Already this season Norwich, Walsall, Gillingham, Stoke, Grimsby, Sheffield United, Reading and Leicester have done just that. In fact no side in the division have lost at home as often as Brighton and we should have been the ninth on the list.
It was a game we controlled for most part and one where we won the midfield. Again Weller and Grant did well and either of them could pick up the Man of the Match award but it was a performance where any number of players could have won it.
And finally referee Trevor Parkes. There's not a lot to say other than the fact that he was totally incompetent, not a referee we will be in a rush to see again.
The teams were,
Brighton: Michel Kuipers, Paul Watson, Kerry Mayo, Danny Cullip, Robbie Pethick, Steve Sidwell, Charlie Oatway (Gary Hart 70), Richard Carpenter, Nathan Jones (Paul Brooker 76), Bobby Zamora, Graham Barrett. Subs not used: Will Packham, Paul Kitson, Adam Hinshelwood.
Burnley: Marlon Beresford, Dean West, Ian Cox, Arthur Gnohere, Mark McGregor, Glen Little, Paul Weller, Tony Grant, Alan Moore (Ian Moore 70), Robbie Blake (Dimitri Papadopoulos 60), Gareth Taylor. Subs not used: Gordon Armstrong, Andrew Waine, Matthew O'Neill.
Referee: Trevor Parkes (Birmingham).