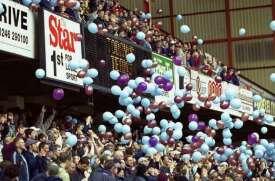 Balloons at Bramall Lane in 2001
You wouldn't have thought that a system of 3 up 3 down would make that much difference to away travelling distances as a result of a single season but this year, probably more than any other, there is a massive difference in the lengths we will have to travel when the new season starts in August.
I've never been particularly fond of Stockport or Crewe but they are undoubtedly a lot closer than Brighton and Reading. I suppose we should be thankful that Stoke rather than Brentford will replace Barnsley.
Man City was an easy place to go for a 1pm kick off but how do you fancy making it to Ipswich by that time? Of the others, trips to West Brom and Birmingham are roughly equal in terms of distance to Derby and Leicester but what does it all mean.
According to my Route Planner software we travelled a total of 475 miles to the teams that are departing Division 1 as opposed to the 1127 miles that trips to the newcomers will take. This is a difference of 652 miles, which is roughly equivalent to a journey from Aberdeen to Penzance. On average it adds up to an extra 28 miles to be travelled per match or getting on for an hour of extra travelling time.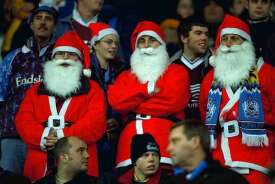 Fancy another trip to Derby in December?
I'm sure that these figures are small fry to supporters groups such as the London Clarets and South West Clarets but for the majority of the Burnley based travel it all adds up to almost a full extra 24 hours spent on the road next season.
I know that it is not just me that has been disappointed with some of the woeful away followings at Turf Moor since our return to Division 1 but just looking at the teams coming and going it looks like it will be even worse next season.
The serious side to this is that this is likely to lead to reduced revenues at the turnstiles at a time when we might need every penny with the shortfall in TV money thanks to the ITV Digital fiasco. Our position will hardly be helped by the fact that, like it or not, we charge amongst the highest admission prices for away supporters in the whole of the division.
It might be that there will be more of the £5 games for paying spectators as was the case against Grimsby last season but to be fair to season ticket holders about 3 of these games would be the maximum.
To end on a positive note we have sold almost 11,000 season tickets for next season already and if you are reading this and sort of wavering whether to buy one or not why not get down to Turf Moor and sign up for another fun packed season? You might just make a difference.