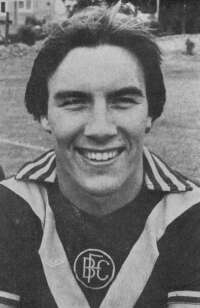 Derek Scott - scored against Watford in the Group Cup win in 1981
The full draw is:
Watford v Fulham or Burnley
Arsenal v Chelsea
Southampton v Wolverhampton Wanderers
Sheffield United v Leeds United
The last time we played Watford in any kind of cup competition was on the day of former Chairman Bob Lord's Death, 8th December 1981.
This was in a competition known as the Football League Group Cup and we beat them 2-1 at the Turf with goals from Derek Scott and David Holt.
The Burnley team that evening was: Alan Stevenson, Lee Dixon, David Holt, Derek Scott, Vince Overson, Micky Phelan, Phil Cavener, Eric Potts, Steve Taylor, Colin Anderson, Kevin Young.
Should we beat Fulham in the replay it will be the first time that we have met Watford in either of the two major cup competitions.