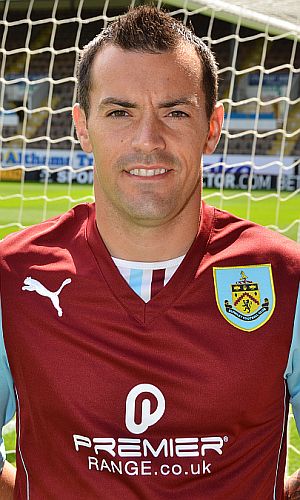 Wallace is an important member of Sean Dyche's squad and since the new manager arrived at the end of October last year only three players have started more league games for the Clarets, they being Jason Shackell, Kieran Trippier and former goalkeeper Lee Grant.
But Dyche will have to operate without Wallace until around Christmas after it was confirmed that he needed knee surgery.
"It's unfortunate for Ross. He came back from pre-season flying and we didn't expect any problem," Dyche said yesterday after confirming the news.
"He did have a niggly knee last season, but we felt we were on top of it and so did he, but it has just gathered a little bit of pace and got too sore to continue, so it's about time he had something done about it.
"He needs an operation and the specialist will know more once Ross gets in hospital, but we have had a scan and there are some details that need tightening up. It's certainly going to be weeks and could be a few months and we believe it will take care of itself once he has had surgery."
Dyche, who admitted last week that he'd like to bring in another wide player, will almost certainly replace Wallace with either Scott Arfield or Keith Treacy at Brighton.
Further explaining the Wallace injury, he added: "The body takes a lot of hammer playing football and there is nothing we can do really. It's part of the body's make up. Footballers do put the body through a lot of stress and over time there's wear and tear.
"But Ross needs this sorting out and we felt it was appropriate to get it sorted straight away."