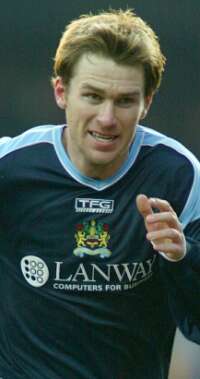 Gareth Taylor - scored second goal and picked up the Man of the Match
It is our second successive league win, following the 1-0 win over Coventry. They have both come without conceding a goal and have both brought about doubles against clubs with recent Premiership pasts.
Before we even look at today's performance it really is worth noting that three seasons we played these two sides in the FA Cup and beat one against the odds before going out to the other. It would have been somewhat difficult to believe that three seasons later we could have taken a total of 18 points from 6 league matches against them.
There is no doubt that Coventry and Derby are not what they were but it certainly highlights the progress that we have made during this time.
Derby were in fact poor today and you really did have to ask whether Fabrizio Ravanelli really wanted to be out on the Turf Moor pitch at times so negligible was his contribution. And then there was Warren Barton. I often wondered just how he ever managed to get games in the Premiership but having seen him twice against us this season this division seems far too much for him now. He did though show a hell of a lot more commitment than the Italian White Feather.
Last week Stan left out Robbie Blake to play a particular formation against Fulham and he stuck with the same formation and the same eleven players this afternoon. Right from the off we looked the better side and took the game to Derby. We might have been playing with just one forward but it certainly didn't look that way as the midfielders, particularly the two Moores, got up and supported Gareth Taylor at every opportunity.
It was no surprise when we took an early lead and it was no surprise that the Moores were involved. In fact it was Ian who scored the goal, hitting it into an empty net after Derby keeper Lee Grant had saved but couldn't hold the first effort from Alan.
You sensed that it wasn't going to be one of those afternoons when Burnley threw one in and given that we haven't lost a game having been in front for over two years, it was Crystal Palace at home n February 2001, we had history on our side.
In fact with just one quarter of the game gone it was 2-0 and this time it was Gareth Taylor who couldn't fail to score from a Tony Grant cross from the right. Taylor buried the header and Grant can take great credit after giving Taylor such a good chance when he could have shot himself.
Maybe it was Derby throwing one in, they had certainly not impressed at this stage and defensively they looked as bad as anything we had seen on the Turf this season. Well not quite, I was forgetting Grimsby in the FA Cup.
Perhaps Burnley should have scored more goals from this point up to half time but we did seem to ease off somewhat, sometimes I just wish we were the sort of side that would go for the throat and finish as side off.
But it was not to be and we went in at half time with a comfortable 2-0 lead and to be honest this Derby side didn't look capable of coming back although I refused to utter the words Bradford, Brighton or Grimsby.
As the players went off angry Derby fans were turning on their players in no uncertain terms and the Italian Ravanelli bore the brunt of most of their abuse. You had to have some sympathy for their fans, their club are actually paying him for this.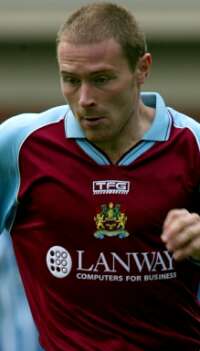 Ian Moore - gave the Clarets the lead
Everything calmed down and former Claret Leighton James strode onto the pitch again to make the half time draw. I did suggest that he deserved a superb reception and that is exactly what he did get. And not just from the Burnley fans, a swift look over to the Cricket Field Stand and most Derby fans were on their feet applauding.
Memories came flooding back of the great games, the great goals from the Welshman. He had provided us with so many over the years. He was followed by local press up man Tommy Gildert who was incredibly completing one million press ups.
Out came the players and apparently Derby had replaced former Newcastle midfielder Rob Lee. This was somewhat surprising, Lee had been so anonymous during the first half most hadn't even noticed he was on the field.
Derby had nothing to lose and surely they would take the game to Burnley. Maybe they did but one thing for certain is the fact that we allowed them to. We had dropped deeper and whereas in the first half the midfield were quick to support Gareth Taylor up front we were now more inclined to see them get behind the ball.
It was hardly inspiring stuff and although Derby pushed forward they hardly looked like a side who had a clue how to get back into the game. Ravanelli and Kinkladze, their supposed stars, showed occasional flashes of their talent but how a bit of application would have helped them.
To be honest it would have taken a side a lot better than Derby to get back into it as the two at the back, Coxy and Driss, were once again in excellent form. Stan described Diallo as a good defender and there is no doubt that he hardly gets anything wrong at the back.
But we really were too willing to drop deep during that second half, too willing to leave our forward players isolated and only occasionally did we look to add to the two early goals.
Nevertheless it was another win, another clean sheet and if only we could find another consistent run without throwing one in then we really would have a chance of making the play offs in this tightest of First Divisions.
Looking at our return from the first 31 games shows that we have some 11 points less than at the same stage last season but only 1 point less than two years ago. Maybe we don't need to be consistent, apart from the top two it is fair to say that no other side is.
It is a tough ask to get into the top six but you never know but maybe we will be counting the cost of the Bradfords and the Brightons at the end of the season. But there really was never much hope of the same being said about today's game, overall we had far too much for this poor Derby side.
Gareth Taylor won the sponsor's Man of the Match and he played well. There were other candidates though, Ian Moore had a good game as did the two central defenders. The midfield players did well at times, both Alan Moore and Tony Grant had good spells whilst Paul Cook again did a good job in front of the back four until he tired late in the game.
But I won't disagree with the sponsors and will go for Taylor. At times his first touch was poor this afternoon and I am still not convinced of him in the lone striker role but he stuck to his task well this afternoon and did particularly well in the first half when he was getting support.
And I have little to say about the referee. It was an easy game for him but I do think he made it easier by allowing the game to flow. No yellow cards for the Clarets but two for Derby. Barton's was fully deserved, dissent following an incident he was miles away from, although the first booking was perhaps harsh.
Back to cup action now with Fulham here on Wednesday, I just have a suspicion they will make it a bit more difficult for us than Derby did.
The teams were,
Burnley: Marlon Beresford, Dean West, Ian Cox, Driss Diallo, Graham Branch, Paul Cook (Mark McGregor 70), Ian Moore, Tony Grant, Lee Briscoe, Alan Moore (Paul Weller 70), Gareth Taylor. Subs not used: Nik Michopoulos, Robbie Blake, Dimitri Papadopoulos.
Derby: Lee Grant, Richard Jackson, Warren Barton, Steve Elliott, Luciano Zavagno, Paul Boertien, Rob Lee (Adam Murray 45), Georgi Kinkladze, Adam Bolder, Fabrizio Ravanelli, Lee Morris. Subs not used: Andy Oakes, Izale McLeod, Pablos Mills, Marcus Tudgay.
Referee: David Crick (Worcester Park).