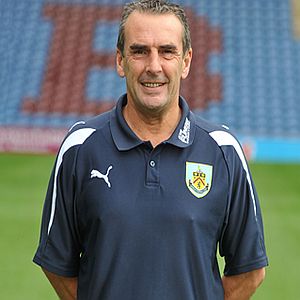 Henderson came in from Sheffield Wednesday along with goalkeeping coach Billy Mercer in January 2010, replacing Cliff Roberts who had joined the biblical exodus to Horwich.
He worked alongside Brian Laws and for the last fifteen months has continued in the same role alongside Eddie Howe, but today the club confirmed he was leaving with Chief Exec Lee Hoos saying: "We thank Tim for his considerable efforts during his time at Turf Moor.
"He made a valued contribution to the coaching and playing staff during his time with us and we wish him well as he pursues his future career."
Henderson said: "I have enjoyed my time with the club immensely. It is what we call in the industry a 'proper club', full of tradition, good people and strong core values.
"Although ending in disappointment, the highlight of my time at the club was our Premier League campaign. That will be a stand-out memory for me as every professional wants to pit their wits against the top clubs in the best league.
"I wish the club well for the future. A respectable finish has been obtained after a season of transition and I am sure a busy summer lies ahead while the manager looks to shape and mould his team for another championship campaign - one I believe can be successful if everyone is patient and gets behind the team."