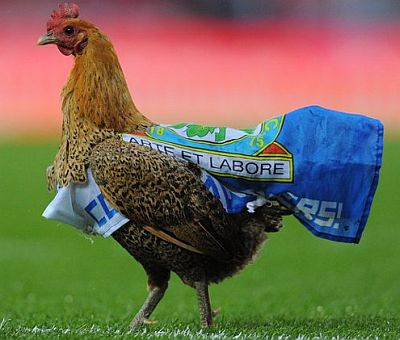 Those two games confirmed Championship places for two more clubs for next season, and that's twenty of the twenty-four we now know for certain.
Cardiff were the first of them, doing what they do best by collapsing at the end of the season. They really have become the modern day Preston with their ability to win a place in the play offs and then blow it. Last year they lost their home leg 3-0 against Reading; this season it was just 2-0 and yesterday they ended up going out 5-0 on aggregate to Sam Allardyce's West Ham who will now go on to play either Birmingham or Blackpool in the final.
What a day for Sam Allardyce. He got his current club into the play off final and then sat back and watched the club who sacked him get relegated. I don't know what Fat Sam thinks of Blackburn Rovers these days but he couldn't have enjoyed their demise any more than the Burnley fans did.
The chop came for Sam in December 2010 when the wonderful Venky's replaced him with Agent Kean, a real hero amongst Burnley supporters. What an astonishing job he's done. From a comfortable place in mid-table, he's managed to take them down whilst telling all and sundry in his interviews how they were heading eventually to Champions League football.
He's perfected the art of playing football matches without his team having a shot at goal with the final, and biggest, highlight coming when Antolin lcaraz scored that late, late winner for Wigan, owned by a former Blackburn player too. Could it have been scripted any better? Even I thought it was appropriate to open a bottle of Shiraz to celebrate.
It was an evening of real entertainment with the home, and clearly deluded, fans strangely demanding the removal of both owners and manager. Well done Venky's and well done Agent Kean, at least some of us can see how much you've contributed and how much enjoyment you provided us with last night.
And that's even without the entrance of the club mascot bedecked in blue and white halves during the first half. I've seen some strange things at Ewood over the years but a dressed up hen being chased by Wigan goalkeeper Ali Al-Habsi is right up there.
We've just the two play off losers, the League One play off winners to add along with one more club to be relegated from the Premier League. We'll know who the latter is this time next week - it's a case of fingers crossed.
It seems to have been quiet almost everywhere else. Blackpool take a 1-0 lead to Birmingham tomorrow night for their play off semi-final 2nd leg and we've even had some transfer activity with Leeds buying Jason Pearce from the Portsmouth fire sale.
It was undisclosed but Pompey sort of revealed it was a £500,000 transfer with Pearce, who Eddie Howe targeted a few months ago, signing a four year deal at Elland Road. So Colin's first signing was not a striker after all.
I'll say nothing about Portsmouth and their financial woes. I dared to speak out against Southampton last week and I don't want to be upsetting any more from Hampshire this week. I received some pleasant enough emails from Southampton fans, and replied to them. I also received some not quite so pleasant ones and didn't bother with those.
There always seems to be a crisis club somewhere in the league and right now I think a lot of people are looking at Hull City. What is going on there? Director of Football Adam Pearson lost his job with neither notice nor compensation.
Meanwhile the club refused to confirm whether manager Nick Barmby has been suspended or not. Today they finally have; confirming the suspension and then to confirm that he'd also now been dismissed after just a few months in the job.
The moral of that story is don't speak out against the owners in the press as Barmby apparently did against the Allam family. They've said today that the comments made by Barmby unjustifiably cast public doubt on the honesty and integrity of the Board and its members.
That's about it for this week, I wonder what date the game at Ewood will be next season. Bring it on, it's time we beat them.