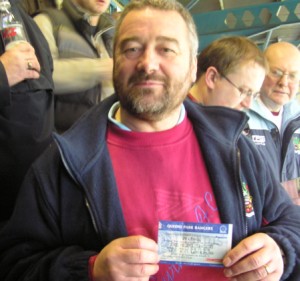 Burnley fan Big Al from Edenfield finds his seat just before three others arrived to try and claim it

Often you go to games away from home when you are able to sit just where you want despite the fact that seat numbers are printed on the tickets. This was not the case at Loftus Road where the policy was clear, you needed to sit on the correct seat.



Unfortunately that proved difficult, certainly for the seat I had been allocated at Block Y3, Row K, Seat 166 because there had been at least another three tickets sold for that particular seat. Trying to get four people onto one seat just doesn't work.



It wasn't just my seat, that problem was replicated all over the place whilst other Burnley fans went to their allocated seats to find they didn't even exist. The stewards were fantastic and when the potential problem was put to them around thirty minutes before kick off they were very quick to point out that it was nothing to do with them.



Not only that, they continued trying to send people to seats that were already occupied and that created a potentially dangerous bottleneck around kick off time with Burnley fans blocking both the exit and the gangways.



Apart from one particularly helpful steward they did nothing other than to make matters worse, and one yellow coated clown strode up to the back of the stand, pushing his way past people desperately looking for seats, and tried to force some of those standing into sitting down despite the fact there were no seats for them, apparently because it is an all seater stadium.



The problem was clearly caused by the fact that duplicates, of duplicates, of duplicates of tickets had been printed but the chaos before kick off could and should have been avoided and would have been if the stewards had been prepared to offer any real assistance.



I'm sure in the true tradition of customer service in football that QPR will either say nothing on the problem or skirt round it with absolute nonsense, but Clarets Mad have contacted them if only in the hope that these problems are prevented from occurring again.



I won't hold my breath, the place looked a real amateur set up to me, but what can you expect at a ground where our players had to climb into empty areas of the stands to go and retrieve the ball.