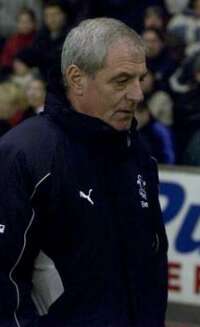 Walter Smith - sacked at Everton
The build up was expected to follow the same pattern as usual but at 11:00 this morning a statement at Goodison Park could change all that. It is widely known now that the statement will be to announce that Everton have parted company with manager Walter Smith but it is the consequences of this sacking that could effect our game this week.
We said yesterday that Paul Gascoigne had hinted that he would consider his future should Smith go and with Stan and Barry keen to get him to Turf Moor we can expect another move from this week.
However Preston look as though they could be hit by Smith's departure, the Haunted One, David Moyes, is apparently top of the list of targets for Everton to replace Smith.
Maybe Moyes will bring Preston to Turf Moor on Sunday to play against a Burnley side without Gascoigne but there again ………………..