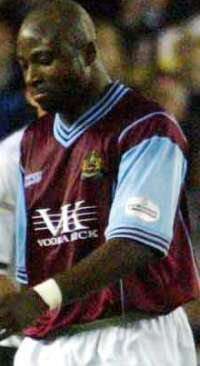 Arthur - will come back in for the suspended David May
May has just won his place back in the side after injury but must now sit out one game although Arthur, who himself was suspended last week, is now ready to return.
It could be that this is the only change with Graham Branch still ruled out with the calf injury that forced him out of the win against Reading during the first half. Paul Weller is pushing for a place after recovering from his calf injury but with Grant and Chaplow both having played so well in recent weeks the long serving Weller will probably have to settle for a place on the bench where once again there will in all likelihood be just four subs.
We are expected to line up:
Brian Jensen, Dean West, Mark McGregor, Arthur Gnohere, Mo Camara, Glen Little, Richard Chaplow, Tony Grant, Luke Chadwick, Robbie Blake, Ian Moore. Subs: Lee Roche, Paul Weller, Joel Pilkington, Matt O'Neill.
Sheffield United also have a defender out suspended, right back Robert Kozluk and his place is expected to be taken by Robert Page.
But the biggest crisis for the Blades has been the lack of a goalkeeper. Paddy Kenny is out injured and his replacement Paul Gerrard has returned to Everton at the end of his loan spell. It was looking as though youngster Kristian Rogers might have to play but at the eleventh hour they have managed to bring in two keepers. Alan Fettis, the former Blackburn keeper, has signed from Hull for a month whilst Lee Baxter, another former Ewood Park man, has arrived from Sweden where he was recently playing for AIK Stockholm.
Goalkeeping coach Andy Leaning has been putting them both through their paces to decide which one of them will start.
Up front Ashley Ward is expected to be fit after missing last week's win over Preston and should go straight back into the side.
They are expected to line up:
Alan Fettis or Lee Baxter, Robert Page, Phil Jagielka, Chris Morgan, Alan Wright, Michael Tonge, Stuart McCall, Michael Brown, Chris Armstrong, Ashley Ward, Jack Lester. Subs from: Alan Fettis or Lee Baxter, Mike Whitlow, Mark Rankine, Nick Montgomery, Wayne Allison, Paul Peschisolido, Andy Parkinson