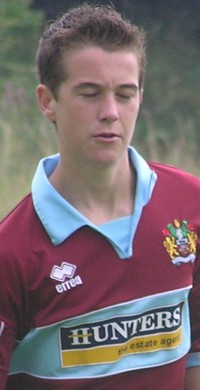 Jack Overson - hoping to be fit for the Liverpool tie

Carlisle became the first side to go through to the 6th round last night with a surprise, but fully deserved, 2-0 win over Sheffield United and now the Cumbrians are hoping that Liverpool will put us out next Monday because they fancy a trip to Anfield.



Their captain Dan Kirkup said, "I lot of the lads are Liverpool fans, so we all want to go there. We can't wait for the next round and hopefully it will be Anfield." That was echoed by Head of Youth Development who added, "No disrespect to Burnley but I hope we get Liverpool."



So that's up to us now and we know we have a difficult game on our hands, just as we did in the last round when we played Fulham. Liverpool, like Fulham, come to the Turf having just put out one of the favourites.



The young Clarets continued their build up to the tie with a win at Chester yesterday in the Youth Alliance Cup and will play Wrexham on Saturday before the big Turf Moor date. Currently we have three players out injured in Mark Crossley, Jack Overson and Ali Akbar but goalkeeper Crossley is the only one definitely ruled out on Monday.



The game kicks off at 7 o'clock and I'm certain that those who went to watch in the last round will be back again after a superb game. Hopefully we can get an even bigger crowd in for the Liverpool game.



The draw for the 6th round is:



Crystal Palace or Watford v Bolton or Southampton

Nottingham Forest or Manchester City v Manchester United or Charlton

Brentford or Newcastle v Blackburn or Brighton

Burnley or Liverpool v Carlisle



Should we get even further then we would play Crystal Palace or Watford v Bolton or Southampton in the semi-finals with the first leg at home.