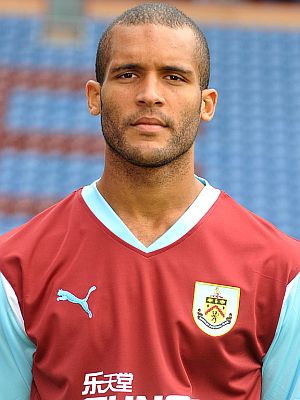 He and Northampton had a difficult day against Bradford City in the League Two play-off final, losing the game 3-0. He'd played well in the semi-final win against Cheltenham but didn't have a good game at Wembley.
And today, five days on, on the day when a Cheltenham man was charged over allegations of racist tweets to him, he announced his retirement as a player at the age of 33, and after over 500 appearances for his eight clubs, including 152 for Burnley.
Carlisle explained: "It wasn't an easy decision. The fact of the matter is my body can't do what I want it to do any more. and that's something you get used to as you get older.
"You learn to read the game better and play differently but what I found at points throughout this season was that my body couldn't do what I need it to do and that's a completely different thing.
"I have thoroughly enjoyed my entire career and to go out at the home of football (Wembley) is quite magical, but the time is right."
His last manager in the game, Aidy Boothroyd, said: "Clarke's decision was a bit of a surprise. He has done well for us, he was part of the team who got us out of trouble last season and who took us on this season. He has been strong for us and he formed a formidable partnership with Kelvin Langmead.
"He is a leader and an organiser and for him it is about moving on to the next chapter of his life. We wish him well. I am grateful I have been able to be his manager and for the contribution he has made, not just to Northampton, but to football in general."
Under the current rules, Carlisle will be required to stand down as the chairman of the Professional Footballer's Association, a position he was appointed to whilst at Burnley, and he's now looking forward to a new career in the media.