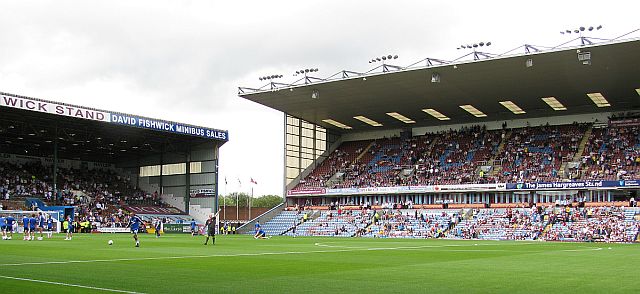 It'd been a fun week at Leeds. It looks as though the takeover is all but done but then, wait, Ken Bates is remaining as chairman until the end of the season and then becoming president. No wonder Leeds fans are sceptical about what's happening.
What happened on Saturday, however, is they ended a run of seven games without a win by beating Crystal Palace who hadn't lost in 14 games. It was hardly the home banker but they won through with goals from Luciano Becchio and Paul Green.
If that result was a surprise then Middlesbrough's home defeat to Bristol City was the shock, the result that had many tearing up their losing coupons on Saturday night. Middlesbrough's only home defeat had come against Leicester in September and Bristol City, struggling at the bottom, were without a win since mid-September and the draw against Blackpool the previous week had ended a run of seven straight defeats.
As the fog descended on the Riverside it all went wrong for Middlesbrough. At 1-1 they thought they'd scored again only for the assistant referee not to be able to see through the fog as it crossed the line.
Manager Tony Mowbray was disappointed but said: "Things just didn't go to plan, but you can't over analyse it. We are still in the top six and there are still plenty of games to play."
Joining them in the top six are Millwall. When they played us on the last Saturday in September their late goal from Darius Henderson rescued them a point and ensured they didn't suffer a fourth successive defeat.
That was the start of a run of eleven games, six won and one drawn, that have seen them surge up the table. They were 21st in the table both before and after that game at Burnley. They are now sixth and have displaced Blackburn in the play off positions having beaten them at Ewood Park on Saturday. They won it with two good strikes from outside the box through Chris Wood and James Henry.
It's left Blackburn in ninth place but the other two North West clubs, Blackpool and Bolton, are both below us. Blackpool, whose players are just about getting used to having to train again, got a third successive draw at home to Watford and Bolton also drew, their point coming at Brighton.
It was a somewhat fortunate point too. Brighton missed a penalty and hit the woodwork three times and then saw David Ngog rescue a point with a goal deep into stoppage time. Bolton boss Dougie Freedman described Brighton's performance as wonderful but said his players dug in. Maybe Mr Freedman isn't yet aware that he's taken over a squad where all the dirty work has been done and they are ready for a return to the Premier League. That should augur well for the future.
There's another full programme this midweek with eleven games tomorrow and an interesting encounter at Ewood Park on Wednesday. Those fixtures can be found below the results and usual stats after the weekend fixtures.
The Results
Saturday 24th November

Barnsley 1 Cardiff City 2

Hull City 0 Burnley 1

Blackburn Rovers 0 Millwall 2

Ipswich Town 1 Peterborough United 1

Blackpool 2 Watford 2

Leeds United 2 Crystal Palace 1

Brighton & Hove Albion 1 Bolton Wanderers 1

Middlesbrough 1 Bristol City 3

Charlton Athletic 1 Huddersfield Town 1

Sheffield Wednesday 0 Leicester City 2

Derby County 3 Birmingham City 2

Wolverhampton Wanderers 1 Nottingham Forest 2
The Stats

Biggest Win

Bristol City 3-1 v Middlesbrough (away)
Leicester City 6-0 v Ipswich Town (home)
Millwall 2-0 v Blackburn Rovers (away)

Total Goals Scored

13 (20 home - 20 away)

Player Scoring Most Goals

2 - Conor Sammon (Derby County)

Highest Attendance

26,455 - Brighton & Hove Albion v Bolton Wanderers

Lowest Attendance

8,227 - Barnsley v Cardiff City

Total Yellow Cards

37

Total Red Cards

2

Most Cards in a Game

Barnsley v Cardiff City (5Y 1R) Ref: Dean Whitestone
Leading Goalscorers (League Only)

17

Charlie Austin (Burnley) - includes 2 penalties

15

Glenn Murray (Crystal Palace) - includes 6 penalties

11

Jordan Rhodes (Blackburn Rovers) - 2 with Huddersfield Town

10

Tom Ince (Blackpool) - includes 2 penalties
Marlon King (Birmingham City) - includes 3 penalties

9

Luciano Becchio (Leeds United) - includes 3 penalties
Craig Mackail-Smith (Brighton & Hove Albion) - includes 2 penalties
David Nugent (Leicester City) - includes 1 penalty

8

Sone Aluko (Hull City)
Craig Davies (Barnsley) - includes 1 penalty
Steven Davies (Bristol City) - includes 2 penalties
Chris Wood (Millwall)

7

Darius Henderson (Millwall)
Matej Vydra (Watford) - includes 1 penalty
Pete Whittingham (Cardiff City) - includes 3 penalties

6

Chris Eagles (Bolton Wanderers)
Heidar Helguson (Cardiff City)
Theo Robinson (Derby County) - includes 1 penalty
Bakary Sako (Wolverhampton Wanderers)
Liam Trotter (Millwall) - includes 1 penalty
Hat Tricks
Date

Player & Game

01/09/12

3: Pete Whittingham - CARDIFF CITY v Wolverhampton Wanderers

15/09/12

3: Charlie Austin - BURNLEY v Peterborough United

22/09/12

3: Glenn Murray - CRYSTAL PALACE v Cardiff City

22/09/12

4: Craig Davies - Birmingham City v BARNSLEY

23/09/12

3: David Nugent - LEICESTER CITY v Hull City

29/09/12

3: Emile Sinclair - Hull City v PETERBOROUGH UNITED

02/10/12

3: Charlie Austin - BURNLEY v Sheffield Wednesday

23/10/12

3: Marlon King - Millwall v BIRMINGHAM CITY

06/11/12

3: Glenn Murray - CRYSTAL PALACE v Ipswich Town

17/11/12

3: Jordan Rhodes - Peterborough United v BLACKBURN ROVERS
Disciplinary Record (League and Cup)

Club

Y

R

Y

R

Club

Y

R

Y

R

League

Total

League

Total

Barnsley

24

1

27

2

Huddersfield Town

32

3

33

3

Birmingham City

20

2

22

2

Hull City

13

0

13

1

Blackburn Rovers

20

0

20

0

Ipswich Town

25

0

25

0

Blackpool

22

0

22

0

Leeds United

35

2

40

2

Bolton Wanderers

36

1

38

1

Leicester City

19

1

19

1

Brighton & Hove Albion

23

0

24

0

Middlesbrough

25

0

28

0

Bristol City

25

0

27

0

Millwall

35

1

37

1

Burnley

32

1

38

1

Nottingham Forest

30

3

30

3

Cardiff City

28

1

30

1

Peterborough United

32

0

33

0

Charlton Athletic

27

0

27

0

Sheffield Wednesday

31

1

34

1

Crystal Palace

24

1

28

1

Watford

35

4

36

4

Derby County

18

1

19

1

Wolverhampton Wanderers

18

1

20

1
Highest and Lowest Attendances

Highest

Lowest

Att

Fixture

Att

Fixture

28,707

Nottingham Forest v Derby County (30/09)

5,435

Peterborough United v Bristol City (18/09)

28,582

Sheffield Wednesday v Leeds United (19/10)

5,997

Peterborough United v Blackburn Rovers (17/11)

28,229

Middlesbrough v Sheffield Wednesday (09/11)

6,188

Peterborough United v Millwall (21/08)

27,437

Derby County v Sheffield Wednesday (18/08)

6,348

Peterborough Utd v Huddersfield Town(23/10)

26,598

Sheffield Wed v Bolton Wanderers (22/09)

8,088

Barnsley v Bristol City (01/09)

26,594

Brighton & HA v Sheffield Weds (14/09)

8,195

Barnsley v Crystal Palace (23/10)

26,455

Brighton & Hove Albion v Bolton Wand (24/11)

8,227

Barnsley v Cardiff City (24/11)

26,402

Brighton & Hove Albion v Leeds United (02/11)

8,319

Barnsley v Peterborough United (02/10)

26,293

Brighton & HA v Middlesbrough (20/10)

8,427

Peterborough Utd v Derby County (29/10)

26,185

Charlton Athletic v Barnsley (20/10)

8,571

Barnsley v Ipswich Town (29/09)
The Next Fixtures
Tuesday 27th November

Barnsley v Burnley

Ipswich Town v Nottingham Forest

Blackpool v Birmingham City (20:00)

Leeds United v Leicester City

Brighton & Hove Albion v Bristol City

Middlesbrough v Huddersfield Town

Charlton Athletic v Peterborough United

Sheffield Wednesday v Watford

Derby County v Cardiff City

Wolverhampton Wanderers v Millwall

Hull v Crystal Palace

Wednesday 28th November

Blackburn Rovers v Bolton Wanderers