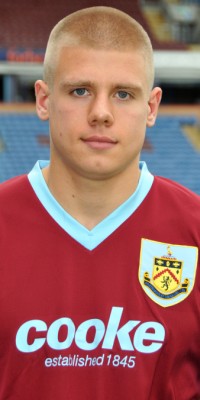 Nik Kudiersky - one of the players in the development squad
It's evident that there have been big improvements at youth level and that's seen another two players, Michael King and Dominic Knowles, handed first professional contracts ahead of the new season.
A year ago there were five players given deals - Chris Anderson, Wes Fletcher, Alex-Ray Harvey, Nik Kudiersky and Chris Lynch - but it has proved a difficult year for them with then not involved with the first team. With Lynch out on loan at Chester and then suffering a cruciate ligament injury it often left the other four training on their own.
Now the club are setting up a development squad that will include these players along with the most promising youth players and they will form the main part of the reserve team that next season will be back in the totesport.com league.
It's part of an ongoing process to give young players a real opportunity to work towards playing in the first team and is now possible with the improvements being made at the Gawthorpe training ground including the laying of a 3G training pitch where the current all weather surface is.
Manager Brian Laws said today: "This is something we have been working on where we feel there is a real prospect for these players to step forward into the first team.
"While we have real quality here there is no question that the facilities have to change and we are making significant changes this summer to allow us to utilise the development squad and keep them close at hand to the first team.
"Because we haven't had the facilities to cope with so many players they end up training in different areas and separate to areas so what we can do is bring everyone together so they have a visual sight, and not just a taste, of where then want to be and give them that opportunity to train alongside the first team on a regular basis."
He added: "The youth squad is probably going to be the biggest we have ever had so also, with the help of Terry Pashley, we will hand pick the top quality ones to bring them into the development squad to accelerate their movement upwards. If they are moved into better quality then hopefully they will improve a lot more dramatically.
"There has been a real thought put into this and hopefully we will see the benefits of that, certainly within the next 12-18 months when hopefully we will have one or two sniffing around the first team."
Brian Laws also confirmed that the club would be appointing a new coach to work with the development squad, and that will bring the numbers on the coaching team back to where it was before Laws and his team came in during January of this year.
This, for me, is excellent news. Anything that helps our club in bringing young players through the system has got to be just that, and this can only help with player development for the players from youth team upwards.