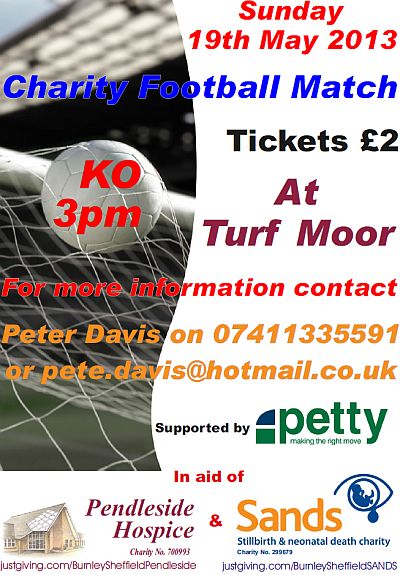 The game, which has been arranged by Burnley supporter Peter Davis, will kick off at 3 p.m. and he told Clarets Mad that they hope to raise a least £250 for the respective charities.
One charity is local to us and that is Pendleside Hospice.
Based at Reedley it is a registered charity providing for the special needs of adults with cancer and other life threatening illnesses.
Their purpose is to improve the quality of life for its patients which is achieved by the provision of specialist medical and nursing care and the provision of social, emotional and spiritual support for patients, their family and carers. The care is given free of charge for those who need it.
The second charity is Sands, the Stillbirth & neonatal death charity, which supports anyone affected by the death of a baby and promoting research to reduce the loss of babies' lives.
If you would like more information, please contact Peter Davis; the contact details are shown on the poster.
For anyone wishing to support the game, or either of the two charities, Peter has set up two online pages where you can make donations.
To view those pages and the charity's web sites, please see below.
PENDLESIDE HOSPICE - HOME PAGE - DONATION PAGE
SANDS - HOME PAGE - DONATION PAGE
As for the football; it will see a return to the Burnley dug out for former manager Frank Casper who resigned his position with Burnley Football Club in October 1991. He will be managing the Burnley team. They also hope to have John Francis there on the day.