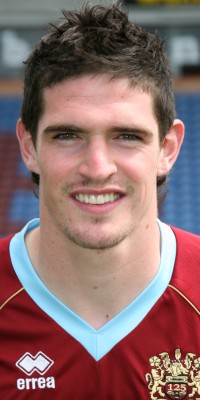 Kyle Lafferty - club charged after follow up to his red card
I can't recall any such charge ever having been filed against the Clarets before but we've now been hit with these two breaches of Rule E20 (a) - failure to ensure its players conduct themselves in an orderly fashion.
The first of them, from the Preston game, is surely following the dismissal of Joey Gudjonsson towards the end of the game, the second red card of the afternoon from the shocking Lee Mason who of course suffers not for his appalling ninety minutes work.
The second, just four weeks later, was from last week's cup tie against Arsenal and I can only assume it was the questioning of referee Alan Wiley following the sending off of Kyle Lafferty. If so, then I think the charge is very harsh indeed. If this is considered a breach of that rule then it is a surprise that England captain John Terry is ever free from suspension.
We have until Thursday 24
th
January to respond to the more recent of the two charges.