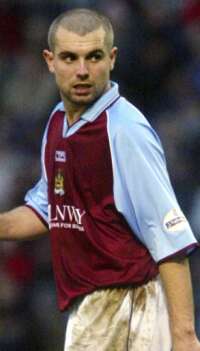 Mark McGregor - favourite to replace Graham Branch
This time it is Graham Branch who picked up his fifth yellow card at Selhurst Park a fortnight ago and will now have to sit out this one game. Branchy missed the two games over the Christmas period against Wolves and Brighton through injury and on both those occasions Mark McGregor took over in the left back position.
McGregor has since played in the centre of defence and at right back but with him having spent the last two games on the bench he must be the most likely option to fill the void left by Branchy's absence.
The other big question will surround Glen Little and as to whether he will come back into the starting line up. Having missed out at Palace through a back injury he didn't make it back into the starting line up last week at Brentford and had to settle for a late cameo role when he came on for Robbie Blake in the last few minutes.
Mind you he did create one goal for Paul Cook and score another in that short space of time and if fully fit he is more than likely to get back into the starting line up, probably at the expense of Ian Moore who would be unlucky to miss out.
That would leave the team as follows:
Marlon Beresford, Dean West, Driss Diallo, Arthur Gnohere, Mark McGregor, Glen Little, Tony Grant, Paul Cook, Lee Briscoe, Robbie Blake, Gareth Taylor.
If that is the case the subs will be chosen from: Nik Michopoulos, Ian Cox, Alan Moore, Ian Moore, Dimitri Papadopoulos and Andy Payton.
Apart from Branchy the only players unavailable this week are Steve Davis and Paul Weller. Davis has been out since the Rotherham game in December with a knee injury and for some reason the club have reacted to news this week that he has had an operation, making it clear that he hasn't.
That news was also broadcast nationally last week and the week before without the club getting hot under the collar about it. Why they should have done so this week remains a mystery.
Paul Weller has now been out of the side for a month after being substituted at Grimsby with a calf injury. There is no news of a return for Weller as yet.
Reading have given no clues whatsoever as to what their starting line up will be with manager Alan Pardew suggesting changes following their 3-1 defeat at the hands of Leicester at the Madejski Stadium this week.
He has warned his side thought that Burnley are a strong, physical side who don't take prisoners and that his players will need character to get anything.
John Mackie is back in the squad after suspension and also travelling are Darius Henderson, John Salako and Kevin Watson none of whom even made the bench in midweek.
Pardew though was complimentary about his old coach from Palace, Stan Ternent, and said of him, "Stan is a great coach who only buys good players for his club, and it will be a tough game all round."
He might have to play that game without the services of Steve Brown and Ricky Newman, both of whom were injured against Leicester. But both are with the squad although they both had to sit out their training session at Manchester United's training complex yesterday.
Much will depend on the formation Pardew chooses. On Tuesday he went with just one striker, Nicky Forster, but could play either Jamie Cureton or Martin Butler alongside him this afternoon. Pardew will select from:
Marcus Hahnemann, Graeme Murty, Adie Williams, Steve Brown, Nicholas Shorey, Sammy Igoe, Steven Sidwell, James Harper, Andrew Hughes, Nicky Forster, Tony Rougier, Nathan Tyson, Jamie Ashdown, Ricky Newman, Jamie Cureton, Martin Butler, Darius Henderson, John Mackie, John Salako and Kevin Watson.
Click HERE for more on Reading, a look back at past results and the Burnley Goal Machine of the late 1960s.