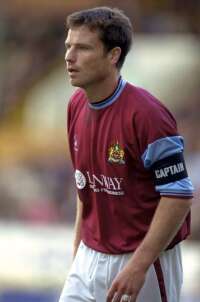 Steve Davis
It is difficult to believe that it is now ten years ago but in March there will be a reunion of the squad from that season that finally got us out of the basement ten years ago. I am not going to go into any details of the season, it is already being superbly covered in
The 1991/92 Season
on the
London Clarets
web site.
The event is to be held in the Harry Potts Stand on Sunday 24th March at 4:00 p.m. and admission for 400 is £10 which includes a buffet. There will also be cabaret. It is being organised by four of the supporters' groups namely, Boundary Clarets, Burnley Football Supporters Club, Central Lancs Clarets and Rossendale Clarets.
Sadly some of the other supporters groups were unaware of it never mind involved in it and it has been arranged for a bad weekend considering that the Clarets are away on the day before thus making it difficult for the London, South West and West Midlands Clarets to attend.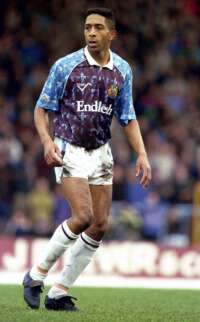 Roger Eli
Worse still though is the news that our game at Bramall Lane on the preceding day could still be moved to the Sunday with a live showing on terrestrial television in the Yorkshire and Granada regions.
Clarets Mad were told that all but one of the squad have accepted invitations, the only exception being Mike Conroy who is now based in Melbourne, Australia. Hopefully it will be able to go ahead on the planned date with the Clarets not playing.
Who did play during that 1991/92 season? Including five goalkeepers there were in fact 27 players used in the 42 league games and they were,
Ian Bray, Mike Conroy, Steve Davis, John Deary, Roger Eli, Andy Farrell, Paul France, John Francis, David Hamilton, Jason Hardy, Steve Harper, Joe Jakub, Mark Kendall, Graham Lancashire, Andy Marriott, Paul McKenzie, Ian Measham, Mark Monington, Peter Mumby, Robbie Painter, Chris Pearce, John Pender, Adrian Randall, Danny Sonner, Nicky Walker, David Williams, Mark Yates.
Those players brought the 4th Division Championship to Turf Moor and got us out of the basement division after seven years. We were the last ever winners of the 4th Division and courtesy of Rochdale's pitch we played the last ever game in the 4th Division, winning 3-1 at Rochdale, and Robbie Painter scored the last ever 4th Division goal.