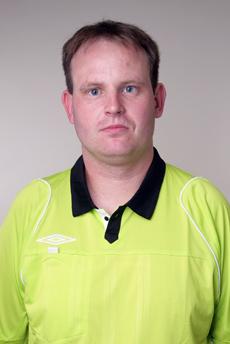 That was the day that Brown, ridiculously, sent off Kieran Trippier for two yellow cards. Clarets' boss Eddie Howe accused him of being too influenced by the crowd, and he left us fighting with ten men for a long period of the game.
It was his third Burnley game. The first two, at Bristol City in 2010/11 and the opening game of the 2011/12 season against Watford, Sean Dyche's first competitive game as a manager, passed reasonably quietly, apart from an unnecessary rush of yellow cards at Bristol, but he more than made up for it at Elland Road on an afternoon when he joined in with the home crowd signing 'Marching on Together'.
He's refereed us once since and again I hold him responsible, partially, for an away defeat after he failed to give a free kick in our favour for a foul on Lee Grant as Ipswich scored their opener against us last season at Portman Road.
Mind you, this referee can get in trouble without going onto the pitch. He landed himself in a bit of bother three years ago for some inappropriate comments about Liverpool on Twitter. He was banned from using social media by Mike Riley and immediately suspended.
He's now in his fourth season as a Football League referee but even now he doesn't get too many games at Championship level. He was given only five Championship games last season and this season, to date, he's refereed five games but all have been at a lower level in the Football League.
In those five games he's handed out eight yellow cards and one red card. Southend's Barry Corr was the player he sent off in their 1-0 win at Hartlepool. Six of the eight yellow cards have gone to the home teams with the other two to away teams players.
The only player carded in his last game, Carlisle's 1-0 home defeat against Port Vale a week last Saturday, was Carlisle's Danny Livesey.
He's currently in 59th place out of 67 referees in the RATE THE REF Table with a rating of 46.22 out of 100.
The assistant referees are Mark Duncan (Cheshire) and Jason Tyas (West Yorkshire). The fourth official is Paul Graham (Manchester).
Previous Burnley Games
Season

Opponents

V

Res

Y

R

Burnley Players Carded

2010/11

BRISTOL CITY

a

0-2

6

0

n

Fox, Mears, Rodriguez, Carlisle

2011/12

WATFORD

h

2-2

2

0

n

Amagou

2011/12

LEEDS

a

1-2

5

1

n

Trippier, Edgar, Mee, Grant

n

Trippier

2012/13

IPSWICH

a

1-2

3

0

n

Wallace, Paterson