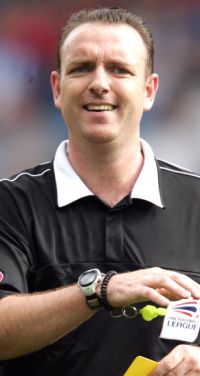 Despite the fact that we've won two and drawn one of his three most recent Burnley games, he remains at the bottom of the RATE THE REF table after some shocking performances.
He was already bottom before his last game which was the home game against Brighton when all of Gus Poyet's team's antics seemed to completely pass him by. That was at Easter and he fell hook, line and sinker for Pompey's approach to the game in the previous Easter.
He became a Football League referee ahead of the 2002/03 season but still most of the games he referees are in the two lower divisions. Last season, he was allocated ten Championship games in his total of 37 games.
He's not over the top with yellow cards, his collection of seven at the Turf being his highest in any game. There were 98 in those games with 11 red cards, including a run of five in seven games towards the end of the season.
Tonight will see him referee for the third time this season. The first was the Capital One Cup tie between Crewe and Hartlepool a week last Saturday and last Saturday he refereed the League One 0-0 draw between Bury and Brentford.
There has been just one yellow card in each game. Hartlepool's Peter Hartley was carded in the cup game and Bury's Adam Lockwood in the league game.
That RATE THE REF rating is now just 29.04 out of 100. I'm sure we'll all be hoping he's going to improve on that tonight.
The assistant referees are Barry Gordon (County Durham) and Ricky Wooton (West Yorkshire). The fourth official is Paul Curry (Northumberland).
Previous Burnley Games
Season

Opponents

V

Res

Y

R

Burnley Players Carded

2003/04

Watford

h

2-3

2

0

n

Blake, Branch

2004/05

Wolves

a

0-2

2

1

n

McGreal

n

McGreal

2006/07

Hartlepool United

h

0-1

0

1

n

Thomas

2006/07

Colchester United

a

0-0

2

0

n

Lafferty, J O'Connor

2008/09

Crystal Palace

h

4-2

3

0

2010/11

Portsmouth

h

1-1

3

0

2011/12

Brighton & Hove Albion

h

1-0

7

0

n

Bartley, McCann, Ings, Edgar, Grant