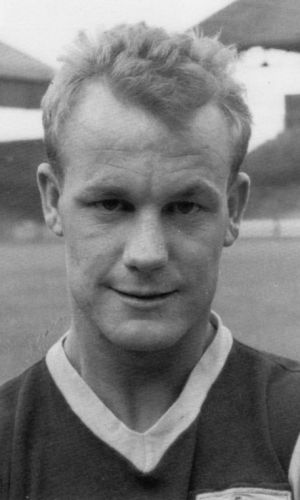 Bomber was a reserve team player when I first started watching the Clarets, but was soon to be elevated into the first team.
He'd made his debut at the start of 1959 in a home game against Leeds but by the time Burnley lifted the Championship trophy some 16 months later he'd made a total of just four first team appearances.
It was during the 1960/61 season that he got his chance following the sale of Brian Pilkington to Bolton, and how he took it. Within just a few weeks he'd scored our last ever European Cup goal, in the second leg as we went out in Hamburg, and played in an FA Cup semi-final.
During the next season, his first full season in the first team, he turned in some outstanding performances on the wing as we came so close to landing the double before missing out on both.
A strong, quick, and powerful player he had a rocket of a left foot shot. As a youngster I'd always imagined his nickname of 'Bomber' was because of that shot. I later found out the real reason.
The emergence of Ralph Coates saw Harris move into the inside-left position and what a midfield pairing he formed with Brian O'Neil during the 1965/66 season when we forced a big challenge for the title before finishing third behind Liverpool and Leeds.
With the departure of Alex Elder and Brian Miller's retirement he was appointed captain in the summer of 1967 but it wasn't to last. He'd had a few disciplinary problems over the years and he was dropped from the first team at the end of 1967 and promptly sold to Sunderland where he was a regular for three of his four years at Roker Park.
He played 313 league and cup games for us in which he scored 81 goals. He scored two hat tricks too. The first came against Cardiff in the inaugural season of the League Cup. We won 4-0 at Ninian Park at a time when he was still a reserve team player. The second came in another 4-0 win, this time at home against Sheffield United in the opening day of the 1966/67 season.
This news, added to the recent loss of Arthur Bellamy, has really saddened me. Bomber was one of my favourites at Burnley during the 1960s.
He's not been afforded good health over the years and has now lost a short battle with cancer. My thoughts are with his family and friends at this sad time.
Rest in peace Bomber.