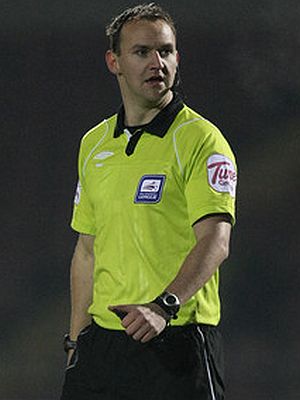 I suspect they are the first brothers to reach the Football League referees' list since David and Graham Laws, both thankfully now gone, and tomorrow will be Bobby's first time in the middle at Turf Moor.
Brother Andy refereed our Capital One Cup tie against Plymouth in August but prior to tomorrow's game, Bobby's Burnley games have both been away from home and both were last season, the 2-1 defeat at Birmingham City and the 2-0 win at Middlesbrough.
I think it is fair to say that we didn't have any problems with him and those two games have given him a RATE THE REF score of 80.39 and sees him in 9th place.
His first season in the Football League was 2010/11 and he refereed two Championship games in that first season, one at Preston, prior to their relegation, and one at Middlesbrough. Last season that increased to nine games and this season, in 12 games so far, he's refereed three Championship games.
In his first two seasons he hasn't made too much use of his cards, averaging around two yellow cards per game. That's increased a bit so far this season with 31 in those 12 games along with two red cards.
Of those yellow cards, 15 have gone to home team players and 16 to away team players. He sent off Rochdale's Craig Curran in a Johnstone Paints Trophy game against Bury but the other dismissal was somewhat controversial, that of Dexter Blackstock in Forest's 1-0 home defeat against rivals Derby.
He was sent off for elbowing Derby's Richard Keogh but claimed it was accidental. Manager Sean O'Driscoll said after the game: "You can see why he gave it, but in the context of the game I just think it's a harsh one'.
Six of his yellow cards came in that game too but last time out there was only one in last Saturday's 0-0 draw between Oxford and Torquay, that of Oxford's Lee Cox.
The assistant referees tomorrow are David Storrie (West Yorkshire) and Jonathan Hunt (Liverpool). The fourth official is Football League referee Darren Bond (Lancashire).
Previous Burnley Games
Season

Opponents

V

Res

Y

R

Burnley Players Carded

2011/12

Birmingham City

a

1-2

2

0

n

Easton

2011/12

Middlesbrough

a

2-0

4

0

n

Paterson, Marney