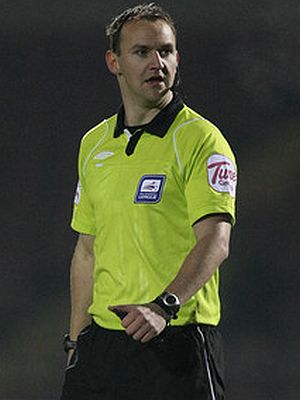 That night he awarded a penalty against Jason Shackell that allowed West Ham to go in front. He gave them another right at the end of that game but I've no argument with that even though I don't think he had to send off Keith Treacy.
It was that first, match deciding penalty. It was a shocker of a decision and I might have suggested it was the worst decision I've seen all season but for the even more ridiculous penalty awarded against Shackell by Madley's brother Andy at Derby, one which, thankfully, didn't cost us.
That West Ham game came just about a year after he got another big decision wrong; sending off Kieran Trippier for supposedly handling on the line against Charlton. He was the only person in the ground who thought he'd handled it.
His first two Burnley games, at Birmingham and Middlesbrough in 2011/12 had passed unnoticed, but the latest two have labelled him as one of the worst referees we've seen in recent years, although he has made it all the way to the Premier League.
His first Premier League game came where he is refereeing tomorrow, at Southampton, and in a game they lost 3-0 against West Brom he sent off three players. Gaston Ramirez (Southampton) and Marc-Antoine Fortuné (West Brom) were both dismissed in one incident and they were followed by former Claret Danny Fox.
He received little criticism but it was interesting to note that he didn't get another Premier League game until September, and he's refereed three this season, two at Hull and one at Swansea.
In total he's refereed 14 games this season and those games have seen 57 yellow cards and five red cards. The yellow cards have been evenly spread, 27 to home team players and 30 to away team players.
Besides Treacy he's sent off two more Championship players; Millwall's Alan Dunne went in a 1-1 draw at Brighton in August and more recently he dismissed Forest's Darius Henderson, and I don't think there will be too many complaints on that one.
His last game was the Hull's 6-0 Premier League win against Fulham last Saturday. There were no cards in that game, and that's a first for this referee in almost two years.
What are we going to get from him? He's prone to giving decisions when he can't see what's happened. He did in our West Ham cup tie and in his very next game, he awarded Stoke an outrageous stoppage time penalty to earn them a draw at Swansea. Mark Hughes agreed with him though.
The assistant referees are Andrew Garratt (West Midlands) and Mark Scholes (Buckinghamshire). The fourth official is Football League referee James Linington (Isle of Wight) whose last Burnley game was our 1-0 defeat at Ipswich in March 2012.
Previous Burnley Games
Season

Opponents

V

Res

Y

R

Burnley Players Carded

2011/12

BIRMINGHAM

a

1-2

2

0

n

Easton

2011/12

MIDDLESBROUGH

a

2-0

4

0

n

Paterson, Marney

2012/13

CHARLTON

h

0-1

1

1

n

Trippier

2013/14

WEST HAM

h

0-2

1

1

n

Shackell

n

Treacy