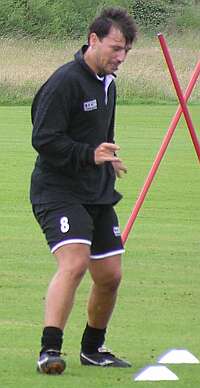 Robbie Blake - at the 1st day of pre-season training in July

The deal is imminent and could even be completed this evening but there are still some loose ends to tie up with the main stumbling block being that the player is entitled to a pay off from Burnley should they make a profit on him.



It won't stop the deal going through and next time Blake plays it will almost certainly be in a Birmingham shirt.



As for the fee, the £1.5 million being announced might also not be the case with Barry Kilby saying this afternoon that the deal would be £1.25 million with a number of add ons.



I would certainly suspect that by this time tomorrow Robbie Blake will be a Birmingham City player but for now at least he remains a Claret.