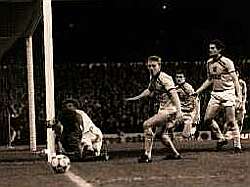 Billy O'Rourke makes a save in his last ever game for the Clarets at Crystal Palace
Billy has died following a brain haemorrhage this morning and the flag at Turf Moor is now flying at half mast.
Billy O'Rourke will probably always be remembered as the goalkeeper who made his first team debut in a 7-0 defeat in front of the Match of the Day cameras. It was on 27th October 1979 and he deputised for the injured Alan Stevenson at Queens Park Rangers as the struggling Clarets were hammered. O'Rourke was not to blame but who can forget seeing the camera zoom in on him as he left the field in tears at the end of the game?
He played again the week after, in a 2-1 home defeat against Orient, alongside his former youth team colleagues Vince Overson and Phil Cavener who were making their debuts.
He had made a promising start to his Burnley career and was a member of the youth team that reached the semi-final of the FA Youth Cup in 1977/78 season. He was to play a major part in the semi-final against Aston Villa because of his absence. He was injured and had to miss the first leg at Turf Moor and with no other goalkeeper at the club eligible we had to take a keeper from local schools football. Billy was an England Youth International and couldn't be so easily replaced and we lost the first leg 3-1.
I recall talking to him outside Villa Park before the second leg and asking him if he was fit. "I'm playing", was the response. He was clearly not fit but did play but we lost 1-0 to go out of the competition. Villa lost in a one legged final against Palace that was played at Highbury.
It was the departure of Don Revie that cost Billy his place in the England Youth team. Revie doing a runner was great news for English football but Ron Greenwood made sweeping changes and put Brian Clough and Peter Taylor in charge of the youth set up, presumably to keep Clough quiet at not getting the job. He and Taylor immediately replaced Billy with their own young Forest goalkeeper Chris Woods who some 20 years later was to play for the Clarets.
He won his first battle at the Turf when he and Tony Norman were challenging for a reserve team place. Norman was sold to Hull and then went on to have a long career with Sunderland and Huddersfield.
The young Billy was finally the understudy to Alan Stevenson, almost a thankless task as Alan was rarely injured and rarely played such that you would even contemplate leaving him out. Billy sneaked in the odd appearance or two here or there.
He had a run in the side during the Christmas/New Year period in 1982/83 season as Alan Stevenson served a suspension for a sending off against Leicester City and Gary Lineker but then lost his place after conceding a goal to Bolton keeper Jim McDonough in a 3-0 defeat at Burnden Park. At the beginning of May 1983, after a bad run, Alan Stevenson was dropped by manager Frank Casper and Billy was brought in for the last five games of the season as we battled against relegation. The battle was lost but Billy did well, conceding just four goals. He was never to play a first team game for the Clarets again.
Alan Stevenson was released at the end of the season and at the age of 23 Billy became our first choice goalkeeper. By the time the new season started though we had a new manager n John Bond and a new goalkeeper in Roger Hansbury and Billy was confined again to the reserve team.
Just after the start of the season he had a loan spell at Blackpool but in March 1984 he left Burnley and signed, along with another John Bond outcast Lee Dixon, for Chester City who were then in the 4th Division. He had made just 14 league appearances for the Clarets.
In the summer of 1984 he moved on again this time to Blackpool where he had done well on loan and went on to make another 92 league appearances for them before signing for Tranmere in February of 1987. After 53 league games he was released at the end of the 1987/88 season and at the age of 28 Billy's league career was over.
Sadly Billy's life is now over at the young age of 41. He might not have been the greatest goalkeeper in the world but he was a smashing lad. It's at times such as this that our thoughts must be with his family and indeed they are and on behalf of Clarets Mad I would wish to send our deepest sympathy to Billy's family.