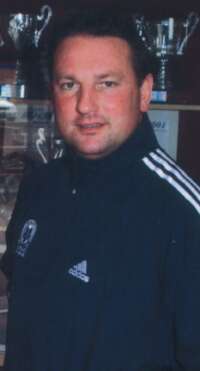 Big Vince - moved to Ramsbottom
He has left the Arbories club to take over Division One side Ramsbottom United, replacing Andy Grimshaw and he goes with Padiham's blessing.
"There's no animosity whatsoever," said Alan Smith, Secretary of Padiham. "We knew from the beginning that Vince was looking to get on in management at a higher level and we were aware of his plans.

"We had an understanding that if he was looking at another job he would let us know, so we haven't been left in the lurch.

"He needed experience with us but he was always going to progress as and when he could.

"He brought a lot of professionalism to training, match days and the way we prepared for games.

"We wish him all the best and hope he is successful at Ramsbottom. He's come here and put a lot of time in and we're positive he'll do the same there."
Vince's last game in charge of Padiham was their 1-1 draw at Ashton Town and he will now be replaced by another former Claret and a colleague from Burnley's Community team, Andy Farrell.
Andy joined Padiham after Vince became manager and is now stepping in as Caretaker boss and could be appointed on a permanent basis.
Smith said of the appointment: "Andy came down when Vince was here to train and play, and he's interested in management so we hope he can continue where Vince left off."