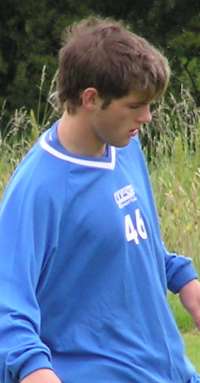 Darrell Avery - will be in the midfield tonight

The youngsters are bang in form right now, the Youth Alliance League team have lost only twice all season, are top of the league, have won through two rounds of the Alliance Cup and have also won their last three games.



Many of these players also play in the reserves and although last week was the first win of the season they are now moving into a mid-table position after six games without defeat, often coming up against much more senior players.



Last Saturday saw us come out of the top of the table clash with Tranmere with all three points to take us four points clear of the Merseyside club and are now clear favourites to win that league.



Three of the players from Saturday though are ruled out tonight because of the different age rules that currently apply. None of Adam Jones, Joe Booth and Alex Taylor will feature against Norwich. A fourth player, Ryan Townsend, would have been in the same position had he been fit.



The only other player ruled out tonight is first year apprentice and Northern Ireland schoolboy international Kyle Lafferty – he suffered an ankle ligament injury in the recent Youth Alliance Cup win over Darlington.



There is better news over Martin Reilly, similarly injured against Darlington. He was on the bench on Saturday and will hopefully be fit enough to return at left back. And to add to that Cayne Hanley is available again after serving a suspension.



To supplement the squad six local youngsters from the club's Centre of Excellence have been added and at least one of them will start tonight. Ali Akhbar, Jamie Robertson and Jay Rodrigues have already featured as substitutes this season and they will be joined in the squad tonight by Paul Casey, Dale Underwood and Jack Overson – and there's a familiar name.



If you can get to the Turf tonight to watch the youngsters then do – they play some good football whilst needing and deserving our support. Admission is just £3 adults, and £1.50 concessions in the Bob Lord Stand and the match kicks off at 7 o'clock.



Pashley will select his side from: Michael Hale, Rob Henry, Neal Trotman (captain), Chris McCann, Martin Reilly, Marc Pugh, Darrell Avery, Nicky Platt, Tom Ince, Cayne Hanley, Mark Crossley, Ali Akhbar, Jamie Robertson, Jay Rodrigues, Paul Casey, Dale Underwood, Jack Overson.