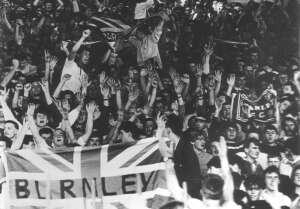 The Longside at the Orient Game
There are no prizes for guessing just what the video is all about and it completes a recent set of three videos following 'Harry Potts Way' and 'Team of the Seventies'.
It will be a star studded evening with personalities involved in all three there and that should include one of the goalscorers from that day of all days back in May 1987 with Ian Britton joining former team mates Ashley Hoskin, Phil Malley and Peter Hampton as well as the manager Brian Miller and his assistant Arthur Bellamy.
From the 70s team are Colin Waldron, Paul Fletcher, Frank Casper and Peter Noble with Paul having a few words to say. Waldo is one of the Clarets, along with Ralph Coates and Peter Mellor who feature heavily on the 70s video.
And there will be members of Harry Potts' teams there besides Brian and Arthur and these will include Jimmy Robson, scorer of our FA Cup Final goal at Wembley in 1962 and Jimmy McIlroy.
It promised to be a great evening and is open to any Burnley supporters to come along. It is being held in the Harry Potts Longside Executive Area and starts at 7:00 p.m.
A night when players spanning over 25 years of Burnley Football Club are together.