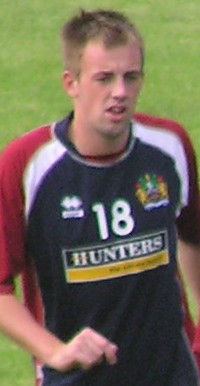 Karl Bermingham - here for another month

Bermingham arrived at the Turf just a month ago and in time to play in the first reserve game of the season. He was straight into the first team at Watford but played the full game out of position, initially on the right hand side and then the left. He hasn't started a first team game since but did make a late substitute appearance in the last home game against Cardiff.



It is unlikely that he will be available tomorrow, Manchester City boss Stuart Pearce refused permission for him to play in the last round of the Carling Cup and is not expected to give the all clear for the Barnsley game.



It was towards the end of the month that Keith Lowe arrived from Wolves and initially he was used as a substitute following a red card for Wayne Thomas and then to replace the injured Thomas and Frank Sinclair.



Those injuries have given him a chance in the team and he has started the last two games, at Preston and Plymouth, during which we have conceded just the one goal. It is not known at this stage whether he will be able to play or not tomorrow.