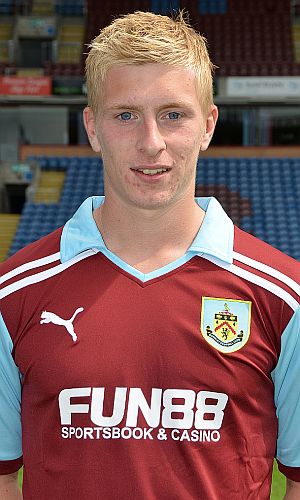 Burnley's first summer 2011 signing, he arrived from Manchester City on a season long loan. He'd been with Leicester during the previous season and their then manager Sven Goran Eriksson was keen to take him back there on a further loan deal.
He, however, felt his opportunities of first team football would be greater at Burnley and signed a year long deal with the Clarets just ahead of the pre-season trip to the South West and made his Burnley debut in the friendly at Bristol Rovers.
He was in the team alongside Andre Amougou at the start of the season but lost his place after suffering from concussion in the away defeat at Peterborough in September.
He's been back in the side regularly recenty. He initially came back in at left back for Brian Easton and then returned to his favoured central defensive role following an injury to Michael Duff. At Middlesbrough on Saturday, with Duff back in the side, he again played at left back where he had a good game and played a part in the second goal which initially came from his throw in down the left.
Like Trippier, he's signed a deal with the Clarets that will see him to the end of the 2014/15 season.
After completing the deal, Mee said: "I have no problem in flying the nest. It's a good club here as well. Obviously the money is different but that doesn't always help.
"We've got a good squad here, good togetherness and that's what I really like. Some of the money that comes in maybe stops a little bit of that togetherness but we've definitely got that here.
"Everyone here is really nice and together and that's a big part of it. I think we can go on and do something this season, and if not, we have got a good young squad and next season will be a big season as well for us, but we are looking at this season. The manager wants us to push up there this season and I think we can."
He added: "I want to do well personally and if I do that hopefully the team will do well collectively as well.
"Initially I suppose it was 'see how you go and see what happens', but I have been enjoying myself and the manager has been really good to me, bringing me on loan and putting a lot of trust in me, so everything worked out really well.
"At the start of the season I looked at the club and spoke to the manager and he wanted to play me.I'm really pleased with the way it's gone, especially over the past couple of months with that run we've been on.
"I think we've got a really good squad and I think we can do really good things here."