Sean Dyche has defended Burnley's Joey Barton following an FA decision that decided no action would be taken for an alleged stamp on Beram Kayal, during the Clarets' 2-2 draw at Brighton on Saturday.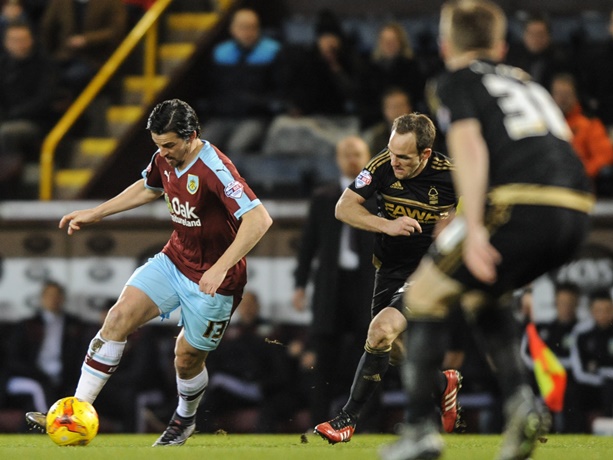 Photo source: Burnley Football Club.
The incident was seen by the match officials at the time, precluding any retrospective action by the FA. Joey Barton clearly hurdled the stricken Israeli but landed on his leg in the second half at the Amex Stadium.
Speaking about "Saints and Sinners", Sean Dyche said: "It's the proper decision. I think Chris Hughton spoke well when he said there was contact, but there was no malice or intention in the icident"
Consequently Joey Barton is now available to face the Bluebirds tonight at Turf Moor.
Dyche added, "I felt the lads's leg just rode around under Joey's foot, and it was just a natural landing position. I thought there was nothing in it."
"There was another thing mentioned about an elbow when he was just jumping for the ball, if we start looking at them we'll be here all day."
Barton despite many Clarets fans initial fears has suffered no disciplinary issues since his arrival at Turf Moor. Whilst at Manchester City, Newcastle United and QPR Barton collected eight bookings but kept away from serious controversy.
Sean Dyche went on to say, "Joey's been a credit to himself and Burnley Football Club, and conducts himself in a very good manner."
"With Joey on Saturday, in fairness, someone could have said 'hang on a minute, look at this season, he's been terrific, his football, the way he's conducted himself', but that doesn't make a story."
"He's not always been a saint, don't get me wrong, but that's sometimes the balance of your life later on when you are doing so well, people try to remind you of things that once happened."
Dyche added,"Joey's a story for any contact he gets with anyone in any given games, but I can assure you he's had the rough end of the stick this season and kept himself very calm and delivered very good performances and that's his intention going forward."
"He's had a number of tough challenges on himself and dusted himself down and got on with it with no complaints, and nobody's ever said a word about them."
"It's a career of talking points he's had so people are obviously talking about him. He's used to it and we're used to it."
"I think he gets a lot of coverage because he's Joey Barton. It's part of life, you get tagged with a lot of different things in your life and when people get a chance to bring it back round they will."
It is clear to me that Joey Barton is an integral part of our squad and has provided the Clarets with the ability to hold the ball and remain calm under pressure.
It is claimed that Barton recently hailed Ben Mee the "find of the season" after switching to centre back. Mee retorted, "It was really nice and I said that to him. It was really nice to hear that from someone like him. "He's highly respected and he's got a lot of opinions so it was nice to hear a good one about me!"
Ben added, "Joey has been a massive influence. You can speak to him really easily about things and I've learnt a lot from him."
"He was (someone I looked up to). He was a graduate from the (Manchester City) academy as well which I looked to be. I spoke to him at length one time – I don't know if he remembers – at an awards thing. He was chatting to us. He's a really good brain to pick."
"He's great. It's great playing alongside him and he brings a lot to the team. I'm sure all the lads will say the same about him. He's been a pleasure to play with this season. He's brought a lot of experience and determination."
The Clarets go into tonight's game with no new injury worries. Dyche stated, ""We're more or less there with regards the team. Lukas Jutkiewicz is the obvious one, he's still long term."
"Barnesy got on on Saturday, so that was good news, we're in good shape.I think it's always good to have your players back no matter what time of the season it is."
"With Barnesy and Juke, those sort of injuries take time but they're almost bang on timescales we were thinking so that's good news."
Joey Barton - Saint or Sinner? I have seen virtually every Burnley game this season. Joey has been targetted, been kicked and tripped on more occasions that I can remember. A smirk, a smile or a scowl usually follows and he dusts himself off and starts all over again.
He has been a tremendous acquisition for the Clarets. Hats off to Sean Dyche for signing him and hats off to Joey Barton for maturing into a model professional football player. (TEC).