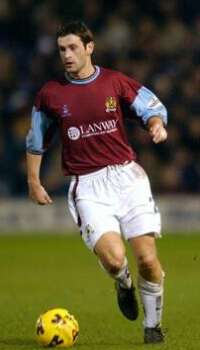 Alan Moore - back in the squad
Both Glen Little and Paul Weller played 90 minutes at Watford and both of them played a major part in the Clarets getting back to winning ways. We all know the influence Glen Little can have on a game and he caused Watford many problems and Paul Weller had an outstanding game that ended with him getting the winning goal.
New signing Robbie Blake got another run and played for about an hour. He looked sharp and any fears that he had picked up an injury at the end were soon discounted. There is further good news too in that Alan Moore's injury is not as bad as first feared and having missed Wednesday's game is expected to come back into the squad.
That poses a number of questions as to what the line up will be at Barnsley. I don't expect Graham Branch to start again, Stan looked far from happy with him as he made his way off after half an hour at Watford and it is much more likely that Brisser will stay at left back. This would leave a gap in midfield that could be filled by Kevin Ball with Ian Cox returning to the centre of defence or by Alan Moore, or less likely Paul Cook.
Up front it could be the usual pairing or Robbie Blake could come in for his first start. Competition for places is what it is all about and the more difficult it gets to guess Stan's line up the better it is, it means more players to choose from. However guess I will and I think there will be just the one change from the team that started at Vicarage Road and Coxy and Blake will start on the bench again as Alan Moore returns in midfield.
The line up then would be: Marlon Beresford, Dean West, Kevin Ball, Arthur Gnohere, Lee Briscoe, Glen Little, Paul Weller, Tony Grant, Alan Moore, Ian Moore, Gareth Taylor. That would mean places on the bench for Ian Cox and Robbie Blake with them likely to be alongside Gordon Armstrong, Paul Cook and Brad Maylett.
Barnsley are hardly likely to make many changes, they are currently on an unbeaten run that has now stretched to eleven games in the league. The do have a couple of injury problems with Steve Hayward and Janne Salli who both have long term injury problems.
Lee Crooks is back in the squad after a virus but winger Leo Bertos is definitely out after being diagnosed this week with glandular fever and currently away from the club.
Barnsley's starting eleven is expected to be: Kevin Miller, Dave Mulligan, Chris Barker, Chris Morgan, Steve Chettle, Kevin Donovan, Gary Jones, Chris Lumsdon, Darren Barnard, Bruce Dyer, Mike Sheron.
For more on Barnsley read our Match Preview