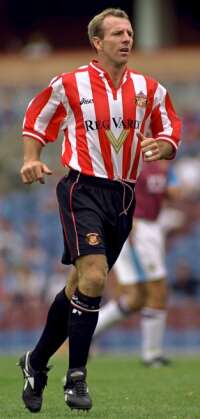 Bally playing for Sunderland against the Clarets in 1999
Bally started his football career with Coventry and that is where his one off appearance with the Mackems will be taking place.
He is special guest of the Midlands branch of the Sunderland Supporters Club, in fact he is more than just a guest. They are holding an 'Evening with Kevin Ball' and it is taking place at the Coundon Sports and Social Club in Coventry.
There is no charge and although it is a Sunderland event I'm sure any Clarets fans living in the area will be more than welcome. After all our manager is a Mackem, our captain is a Mackem and besides Bally we also have another former Sunderland player in Stretch Armstrong on the staff.
And there again we must be their best friends, we actually gave them money for Lee Howey and I shouldn't think they would have forgotten that wonderful piece of generosity in a hurry.
So if you live anywhere near Coventry then get your Claret and Blue shirt on and give Bally some support. You certainly won't be the only Claret there, there will be members of the West Midlands Clarets there to listen to Bally.