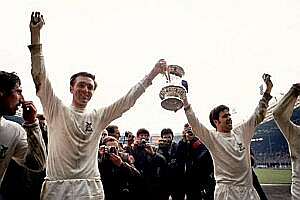 Jeff Astle (left) lifts the FA Cup after scoring the winning goal in the 1968 final
If you were to be asked the name of a former Preston player then the name Tom Finney would surely be the favourite, whilst it would be the same with Nat Lofthouse at Bolton and I'm sure Jimmy McIlroy at Burnley.
Last night we learned of the sudden and untimely death of one of them, West Brom's Jeff Astle. He collapsed at his daughter's home and despite being rushed to hospital died at the age of just 59.
He joined West Brom from Notts County in 1964 for £25,000 and went on to play 292 league games for them, scoring 137 goals, before leaving in 1974. He helped them to two League Cup Finals and one FA Cup Final and became the first player to score in every round of the FA Cup when he got the winner in the 1968 final against Everton.
He went on to play for England and was a member of the 1970 World Cup squad in Mexico. After a series of injuries he had spells in non league football but always remained close to West Brom and was still a regular visitor.
Many younger fans will remember him from his regular appearances with Frank Skinner and David Baddiel on Fantasy Football League, always ending the programme with a song, if badly sung. That said a lot about the man and of course he was there because he was Baggies fan Skinner's hero.
Clarets Mad have passed on their symapthies to Astle's family and to West Bromwich Albion.