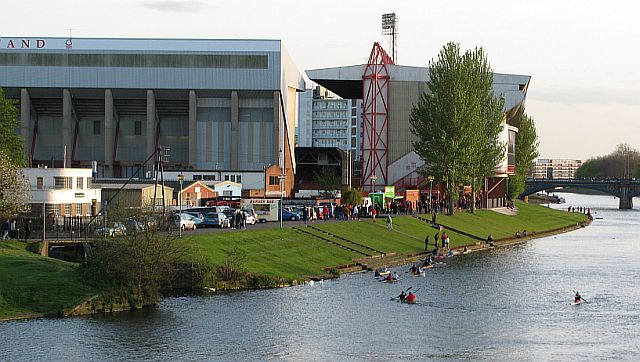 Nothing has changed at the top. West Ham and Southampton still occupy the top two places and it is also the same four clubs in the play off places. However, it has all closed up with West Ham losing and the next four getting one point each, allowing Birmingham, the only winners from the top six, to move up to fourth place in the table.
Birmingham really are the ones to watch. They were impressive in the first half against us at St. Andrew's back in November and they've managed to get up there despite all the extra games in the Europa League.
They are currently above Middlesbrough and Hull on goal difference and four points behind third place Cardiff, but they do have a game in hand, a home game at that and they haven't been beaten at home all season.
The results really have closed things up. Blackpool and Reading are just a point outside the top six and we come next a further two points behind whilst managerless Leeds and Brighton are one point behind us.
If it's tight at the top then it definitely isn't at the bottom. Bottom club Coventry looked set for a win at Blackpool before conceding two late goals. Two points ahead of them are Doncaster and Nottingham Forest. Donny went above Forest, gaining a point from their 0-0 draw at Hull.
Forest, of course, lost to the Clarets, and I have to say that I've revised my views on their chances of staying up. They looked an appalling side when they came to Turf Moor earlier in the season. I expected them to be better but in truth they weren't. They looked like a side with no confidence at all and unless they find some soon they could be in serious, serious trouble.
Millwall are just outside that bottom three now with Ipswich having beaten West Ham, but they are five points clear so no matter what happens this weekend, the bottom three won't change.
Our win means we have now, alongside West Ham, won more away games than any other Championship club. There always has to be a downside unfortunately and right now only Bristol City, Crystal Palace, Doncaster and Nottingham Forest have won less home games. On points, we're second best away (24 points) but 18th at home (19 points).
The week's results are below along with the stats, leading goalscorers, each club's disciplinary record, the highest and lowest attendances and the next fixtures.
The Week's Results
Saturday 28th January

Peterborough United 0 Portsmouth 3

Reading 1 Bristol City 0

Tuesday 31st January

Barnsley 3 Derby County 2

Leeds United 1 Birmingham City 4

Blackpool 2 Coventry City 1

Millwall 0 Watford 2

Crystal Palace 1 Brighton & Hove Albion 1

Nottingham Forest 0 Burnley 2

Hull City 0 Doncaster Rovers 0

Southampton 1 Cardiff City 1

Ipswich Town 5 West Ham United 1

Wednesday 1st February

Leicester City 2 Middlesbrough 2
The Week's Stats

Biggest Win

Birmingham City 5-1 v Leeds United (away)

Total Goals Scored

35 (16 home - 19 away)

Player Scoring Most Goals

4 - Nikola Zigic (Birmingham City)

Highest Attendance

24,356 - Southampton v Cardiff City

Lowest Attendance

7,555 - Peterborough United v Portsmouth

Total Yellow Cards

28

Total Red Cards

1

Most Cards in a Game

Crystal Palace v Brighton & Hove Albion (5Y) Ref: Stuart Attwell
Leading Goalscorers (League Only)

16

Rickie Lambert (Southampton) - includes 6 penalties

13

Ross McCormack (Leeds United)

12

Darius Henderson (Millwall) - includes 2 penalties

10

Guly Do Prado (Southampton)
David Nugent (Leicester City)
Jay Rodriguez (Burnley) - includes 1 penalty
Billy Sharp (Southampton) - includes 1 penalty - (10 with Doncaster Rovers)
Robert Snodgrass (Leeds Uniited)
Ricardo Vaz Te (West Ham United) - (10 with Barnsley)
Chris Wood (Bristol City) - (9 with Birmingham City)

9

Keith Andrews (Ipswich Town)
Charlie Austin (Burnley)
Craig Davies (Barnsley) - includes 1 penalty
Matty Fryatt (Hull City) - includes 1 penalty
Lukas Jutkiewicz (Middlesbrough) - includes 1 penalty - (9 with Coventry City)
Marlon King (Birmingham City) - includes 2 penalties
Scott McDonald (Middlesbrough)
Kenny Miller (Cardiff City)
Hat Tricks
Date

Player & Game

20/08/11

3: Lee Tomlin - PETERBOROUGH UNITED v Ipswich Town

10/09/11

3: Rickie Lambert - SOUTHAMPTON v Nottingham Forest

11/09/11

3: Chris Wood - BIRMINGHAM CITY v Millwall

12/10/11

3: Darius Henderson - Leicester City v MILLWALL

02/11/11

3: Jonjo Shelvey - Leeds United v BLACKPOOL

19/11/11

3: Rickie Lambert - SOUTHAMPTON v Brighton & Hove Albion

26/12/11

3: Matthew Phillips - Barnsley v BLACKPOOL

31/12/11

3: Ricardo Vaz Te - BARNSLEY v Leeds United

21/01/12

3: Darius Henderson - Barnsley v MILLWALL

31/01/12

4: Nikola Zigic - Leeds United v BIRMINGHAM CITY
Disciplinary Record (League and Cup)

Club

Y

R

Y

R

Club

Y

R

Y

R

League

Total

League

Total

Barnsley

37

1

40

1

Ipswich Town

34

4

35

4

Birmingham City

37

1

39

1

Leeds United

41

5

47

5

Blackpool

37

1

38

2

Leicester City

42

5

48

5

Brighton and Hove Albion

65

5

77

5

Middlesbrough

46

4

47

4

Bristol City

42

2

44

2

Millwall

45

2

50

2

Burnley

40

2

48

2

Nottingham Forest

37

3

42

3

Cardiff City

35

0

49

0

Peterborough United

34

2

37

2

Coventry City

33

2

35

2

Portsmouth

45

3

52

3

Crystal Palace

38

1

42

2

Reading

40

0

43

0

Derby County

37

1

37

1

Southampton

34

3

35

3

Doncaster Rovers

43

2

45

2

Watford

37

1

38

1

Hull City

47

1

48

1

West Ham United

45

3

48

4
Highest and Lowest Attendances

Highest

Lowest

Att

Fixture

Att

Fixture

34,936

West Ham United v Coventry City (02/01)

6,351

Peterborough United v Cardiff City (18/10)

34,749

West Ham United v Barnsley (17/12)

7,550

Peterborough United v Portsmouth (28/01)

33,465

West Ham United v Portsmouth (10/09)

7,650

Doncaster Rovers v Watford (26/11)

33,010

Derby County v Southampton (15/10)

7,778

Doncaster Rovers v Bristol City (27/08)

33,010

Derby County v Leeds United (26/12)

7,901

Peterborough United v Burnley (17/09)

32,150

Southampton v West Ham United (18/10)

7,928

Peterborough United v Ipswich Town (20/08)

31,812

Southampton v Brighton & Hove Albion (19/11)

8,062

Peterborough United v Coventry City (17/12)

31,718

West Ham United v Nottingham Forest (21/01)

8,320

Peterborough United v Barnsley (03/12)

31,524

Southampton v Crystal Palace (26/12)

8,426

Doncaster Rovers v Coventry City (29/10)

31,448

West Ham United v Blackpool (15/10)

8,500

Peterborough Utd v Doncaster Rovers (01/10)
The Next Fixtures
Saturday 4th February

Birmingham City v Southampton (17:20)

Doncaster Rovers v Reading

Brighton & Hove Albion v Leicester City

Middlesbrough v Crystal Palace

Bristol City v Leeds United

Portsmouth v Hull City

Burnley v Peterborough United

Watford v Barnsley

Cardiff City v Blackpool

West Ham United v Millwall (12:30)

Coventry City v Ipswich Town

Sunday 5th February

Derby County v Nottingham Forest (12:15)