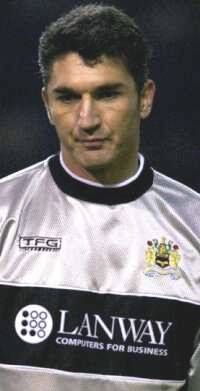 Nik Michopoulos - goalkeeper coach with PAOK

The first of the two games, against Greek side PAOK Salonika, will be played at ABTENAU on Tuesday 26th July with a 6:15 p.m. kick off. For those travelling from Salzburg, Abtenau is due south east and is west of the club's training centre at Obertraun.



This game will see the Clarets meet up again with former goalkeeper Nik Michopoulos who is now goalkeeper coach at his former club. There won't be too many familiar faces in the Burnley squad for Nik the Greek to look out for with only Graham Branch remaining from the squad he left two years ago.



PAOK have just signed two international players on four year contracts. They are Stelios Iliadis and Bosnian Vladimir Karolik alongside Greek Under-19 goalkeeper Konstantinos Paliouras, all four of them are expected to play against Burnley.



It's off to Bad Wimsbach on the Saturday 30th July and another meeting with German Bundesliga 2 side SV Wacker Burghausen with the game kicking off at 6:00 p.m. This is north east and beyond Vöcklebruck where we played them last season.



Last time it was a 1-1 draw with Branchy getting the Burnley goal in the first half before the German's equalised though Geißler.