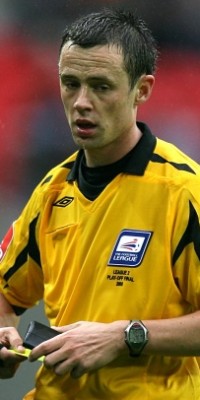 This time last year he was a Select Group referee but his time in the Premier League, and outside it for that matter, was dogged with so much controversy he was demoted in February last year.
He refereed the game between West Brom and Everton at the Hawthorns on New Year's Day last year and that proved to be his last top flight game but probably the last of his big errors came with the ridiculous red card shown to Gary Cahill a month earlier playing at Spurs.
Since, he's been relegated to Football League games and more often than not has refereed in the lower two divisions. He has refereed Burnley since that demotion. That was our 5-1 win at Portsmouth last season, the second time in two seasons he'd refereed that particular fixture.
There were so many problems and that dismissal just added to having been called a liar by one Premier League manager and a complete joke by another.
He's under the radar now in the Football League and this season has already refereed 27 games with eight of them having been in the Championship. In those games there have been 78 yellow cards and just two red cards.
Of those yellow cards, 38 have gone to home team players and 40 to away team players with both players sent off coming from away teams.
His Burnley games so far have given him a rating of 61.03 out of 100 in the RATE THE REF Table and he's in 40th place.
The assistant referees are John Farries (Oxfordshire) and Guy Stretton (Leicestershire). The fourth official is Den Treleaven (West Sussex).
Previous Burnley Games
Season

Opponents

V

Res

Y

R

Burnley Players Carded

2009/10

Manchester City

a

3-3

4

0

n

Bikey, Mears, Carlisle

2009/10

Aston Villa

a

2-5

3

0

n

Carlisle, Fletcher, Nimani

2010/11

Portsmouth

a

2-1

2

0

n

Cork, Duff

2011/12

Portsmouth

a

5-1

6

0

n

Grant, Marney, Austin