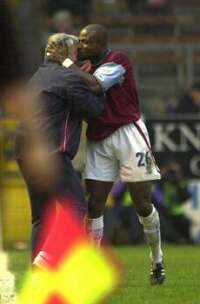 Stan and Arthur celebrate the equaliser
Before the game those in the Exclusive Foundation Members bar (anyone can go in but use the back door if they really try to charge you) were treated to a short interview with scout Jack Hixon who has just celebrated his 81
st
birthday. His passion for the game and for Burnley Football Club in particular is wonderfully refreshing and it is so difficult to believe that he is a man of such an age.
Then just before kick off a minute's silence was impeccably observed for George Bray who sadly passed away on Wednesday at the age of 83.
On to the game and Ian Moore was relegated to the bench but not to be replaced by new signing Robbie Blake. Instead we started the game with a 4-5-1 formation with Tony Grant returning. Who would have believed it, Burnley with two £1 million players on the bench and a starting line up that had cost the club just £850,000.
For half an hour or so the football was at times a joy to watch as we passed the ball around a bare looking Turf Moor pitch. Probably the closest we came to a goal in this period was from a Gareth Taylor header that he put wide when he really should have scored.
To be fair Forest were defending well and chances were very much at a premium and our best hope seemed to be coming from Paul Weller who was having an excellent game in midfield and got in quality crosses from the right on more than one occasion.
It was one way traffic and nothing was seen of Forest as an attacking force as the Clarets found attack after attack. Glen was all over the pitch but to be honest was not having any great effect on things, I would much prefer to see him creating mayhem in the opposition defence by attacking them down our right hand side.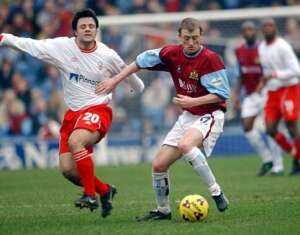 Tony Grant in the action
The only worry was the lack of clear cut chances as Forest defended resolutely. Then as half time approached disaster really could have struck as Forest could have quite easily scored three goals. As they got forward for almost the first time in the contest they frightened the life out of us and should surely have scored at least twice.
One of those chances saw Marlon Beresford make his only mistake of the game to be rescued by Arthur Gnohere with a great last ditch tackle, although Arthur had let his man go in the first place. As the half time whistle blew we should have been going in with a lead after the way we had dominated but could so easily have gone in behind with those late chances.
Right on half time Tony Grant pulled up in front of the Bob Lord Stand and it was no surprise to see him substituted at the start of the second half. Rather than bring on Paul Cook, the obvious replacement, Stan changed formation and brought on Robbie Blake.
If Blake thought he was going to get 45 minutes he was badly mistaken, within 20 minutes he was being substituted himself after our worst period of the game. Forest were looking much better in this second half and Blake had really failed to impress but it was one hell of a shock when Gordon Armstrong replaced him.
As most people know I am a big fan of Stretch but I didn't expect him to come on for Blake and go into midfield to change it back to a 4-5-1. After the bad start to the half worse was to come though as Forest took the lead from the penalty spot after a foul by Arthur Gnohere. Whether it was just or not I'm not sure but from where I was sitting in the Harry Potts Longside Upper Tier it looked like one that I would have been demanding had it been at the other end.
That brought about another change of formation as Ian Moore came on with many people suggesting that Armstrong may now be pulled off. In fact it was Ian Cox and Armstrong replaced him at the back. That did seem to tighten things up at the back, in the same way as it did when Bally played alongside Arthur at Watford.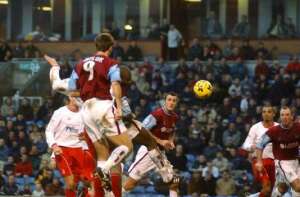 Arthur heads the equaliser
With about ten minutes to go I did admit that I had given the game up, I really didn't think we would score even if we played until midnight. I did add though that if we did then it would probably come from Arthur who by now was leading almost a one man campaign with his surges from the back.
Maybe I'll have some luck on the lottery as well tonight because with just two minutes of normal time left it was Arthur who grabbed the equaliser heading in Lee Briscoe's free kick. It was his first ever goal on the Turf and he treated the home crowd to an over exuberant celebration that included planting a kiss on Stan.
So a point in the end from a game we looked like winning but could so easily have lost. At the end of the day it was Forest who created the best chances and probably should have gone on to win the game. They are hardly the most adventurous team to have played on the Turf this season but given the problems there they are playing with a lot of young players.
I was undecided on Man of the Match today but in the end have gone for Paul Weller as he seemed to be the one player in midfield who might have created the spark. He just edged it for me from Marlon Beresford who had a good game.
With David Clark unavailable this week there won't be a star geezer or a star gazer but I'm sure Alan Moore might well have been picking up the star gazer award. We really do need more from him than this although he does appear to keep the physio busy game after game.
I thought the referee was alright today, nothing crazy from him. Not only that he seemed to get the cards right. There was just the one for Forest's Hjelde and that was fully justified. He tried to keep the game going and was always looking to play an advantage wherever possible. But why is it that we always seem to draw when he comes to the Turf?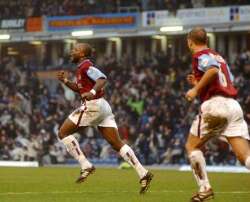 It's 1-1 and Gordon Armstrong isn't going to catch Arthur as he runs towards Stan
With Wolves having won at lunchtime we have fallen further behind the top two and an automatic promotion place seems to be disappearing into the distance just now. We have won just one of the last nine league games and collected just eight points. That is relegation form over a period that of around a fifth of a season. It is not quite so bad as last season but it is another bad spell that we simply couldn't afford.
We have now won just half of our sixteen home games and have not won at home in the league since we beat Stockport in mid December. That has to be changed and changed quickly before we fall even further. It would be a disaster now if we didn't even make the play offs but as each game goes by the task is getting more difficult.
We need some inspiration from somewhere and today that was lacking as we struggled to break down a resolute defence. What wouldn't we do right now for 20 minutes of an on form Glen Little destroying the opposition.
The teams today were,
Burnley: Marlon Beresford, Dean West, Ian Cox (Ian Moore 73), Arthur Gnohere, Lee Briscoe, Glen Little, Paul Weller, Kevin Ball, Tony Grant (Robbie Blake 45, Gordon Armstrong 65), Alan Moore, Gareth Taylor. Subs not used: Paul Cook, Brad Maylett.
Nottingham Forest: Darren Ward, John Thompson, Jim Brennan, Jon-Olav Hjelde, Matieu Louis-Jean, Gareth Williams, David Prutton, Andrew Reid, Jack Lester, Marlon Harewood, Nicky Summerbee. Subs not used: Gary Jones, Barry Roche, Brian Cash, Eugen Bopp, Kevin Dawson.
Referee: Graham Frankland (Middlesbrough).